Description
All Deliveries made within 24 Hours (Business Hours) post receipt of order. Except Fridays (Weekly Off)

1 YEAR WARRANTY
Air Purifier Type - Room; Purification method - High-Efficiency Particulate Arrestant (HEPA) filter type 211Blue


Coverage area: Blue 211 cleans upto 250 sq.mtrs, great for medium to large rooms

Clean Air Delivery Rate (CADR): 590 m3/hr; CADR indicates the volume of purified air (in cubic mtrs) which an air purifier produces every hour

The HEPASilent filtration technology removes 99.97% of airborne pollutants like bacteria, viruses, allergens, Pm 2.5 particles, microplastics, etc down to 0.1 micron in size

Particle + Carbon filter with largest filter area of ( 4.3 sq.mtrs) for best filtration effeciency and consistent clean air. Removes all particle and gaseous pollutants

Powerful 360 degree air intake for efficient air cleaning , Energy efficient, Whisper Silent performance

Additional washable pre- filter catches larger particles,extending the life of main filter, also change the colour as per the room décor
1 Years of warranty on air purifiers

In case of any product queries / complaints, kindly contact _us on:18008331188
From the manufacturer
One-button Activation
Clean air is not only good for your lungs, but your brain too. It increases your energy level, so you can properly focus on whatever you're doing without feeling lethargic. This air purifier helps you achieve all that and more at the push of a single button.
211Blue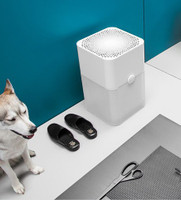 360-degree Air Intake
Irrespective of where you put it, this air purifier offers an efficient performance. It can clean the entire volume of air in a room up to five times per hour. With 360-degree air intake, the Hicare Blue Pure 211 can cover up to 50.16 sq. m. (540 sq. ft.), making it perfect for medium-sized to large rooms.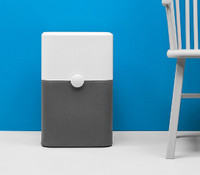 Easy to Maintain
The colored fabric covering this air purifier not only adds to its appeal, but can also filter the larger airborne particles before they get to the main filter. You can either vacuum it or put it in your washing machine to easily clean it. The main filter is also easy to change with just one click. In addition, this air purifier also comes with a filter replacement indicator.
211Blue
Blueair's HEPASilent Technology which is a combination of mechanical and electrostatic filtration technologies, delivers cleanest air ever with lesser noise and least energy consumption.
211Blue
Powerful 360-Degree Air Intake

Unique 360˚ air intake allows the air purifier to be placed anywhere across the room  211Blue


More Clean air

Blue Pure 211 comes with 3 layers of filtrations for effective purification

Whisper Silent

With just 31 dB(A) of sound level, Pure 211 offers quietest operation at minimal fan speed

Energy Efficient

Just 30 Watt electricity consumption at low fan speed – equals power consumed by 2 LED bulbs
Easy One Button Control

Just one touch to enjoy the power of clean air

Automatic Filter Change Alert

Lights up when it's time to replace filters

211Blue

Personalize with 5 Pre-colour Filters

Rejoice your mood with youthful coloured pre-filters

Certified By Global Bodies

Backed up by internationally renowned certifications
Mahajan Electronics
89-90 Raja Garden
New Delhi-110015
Payment & Security
Your payment information is processed securely. We do not store credit card details nor have access to your credit card information.