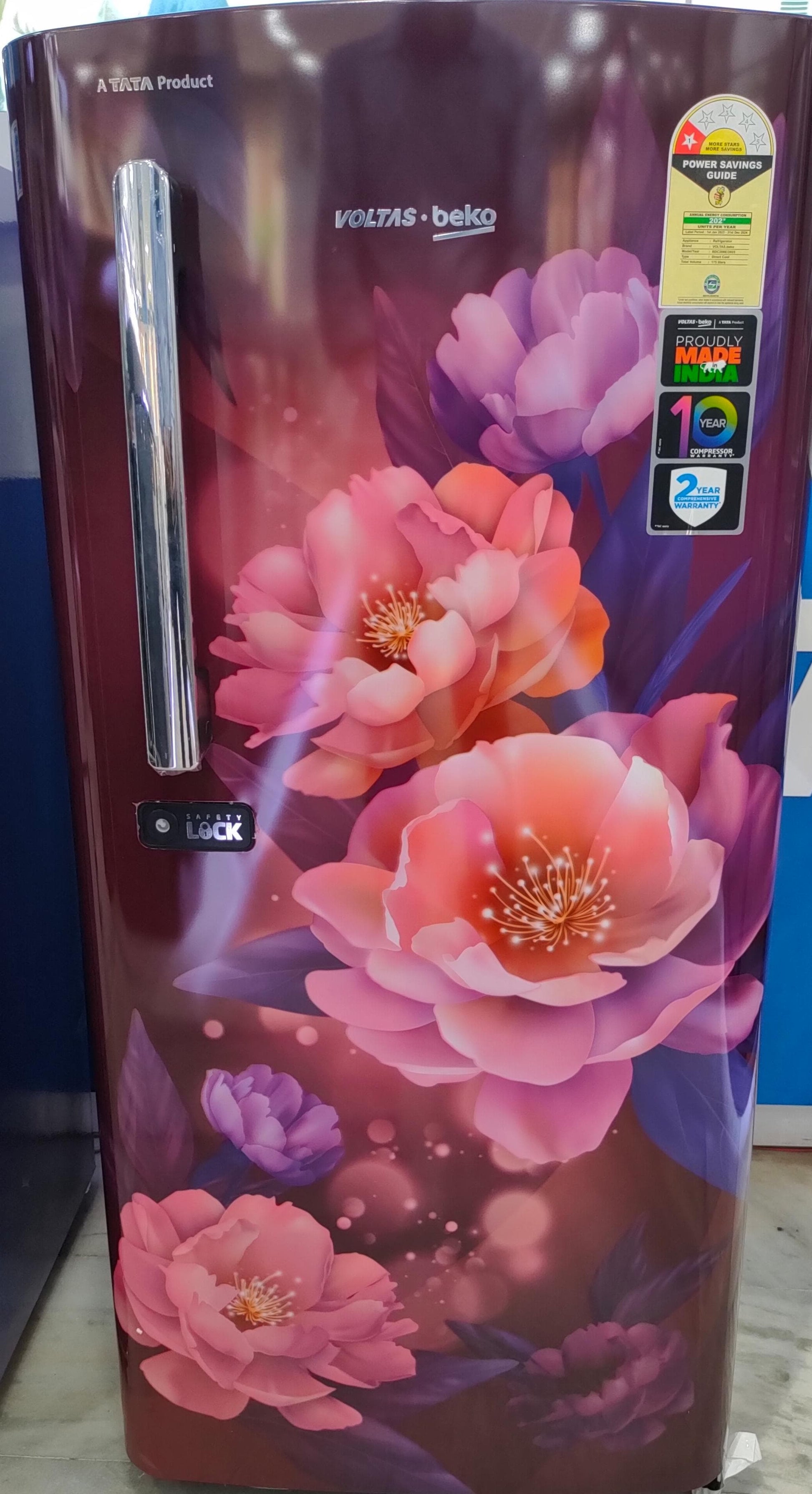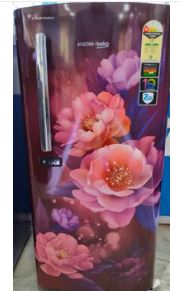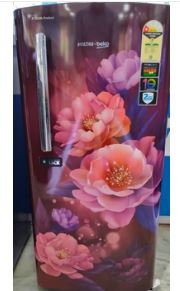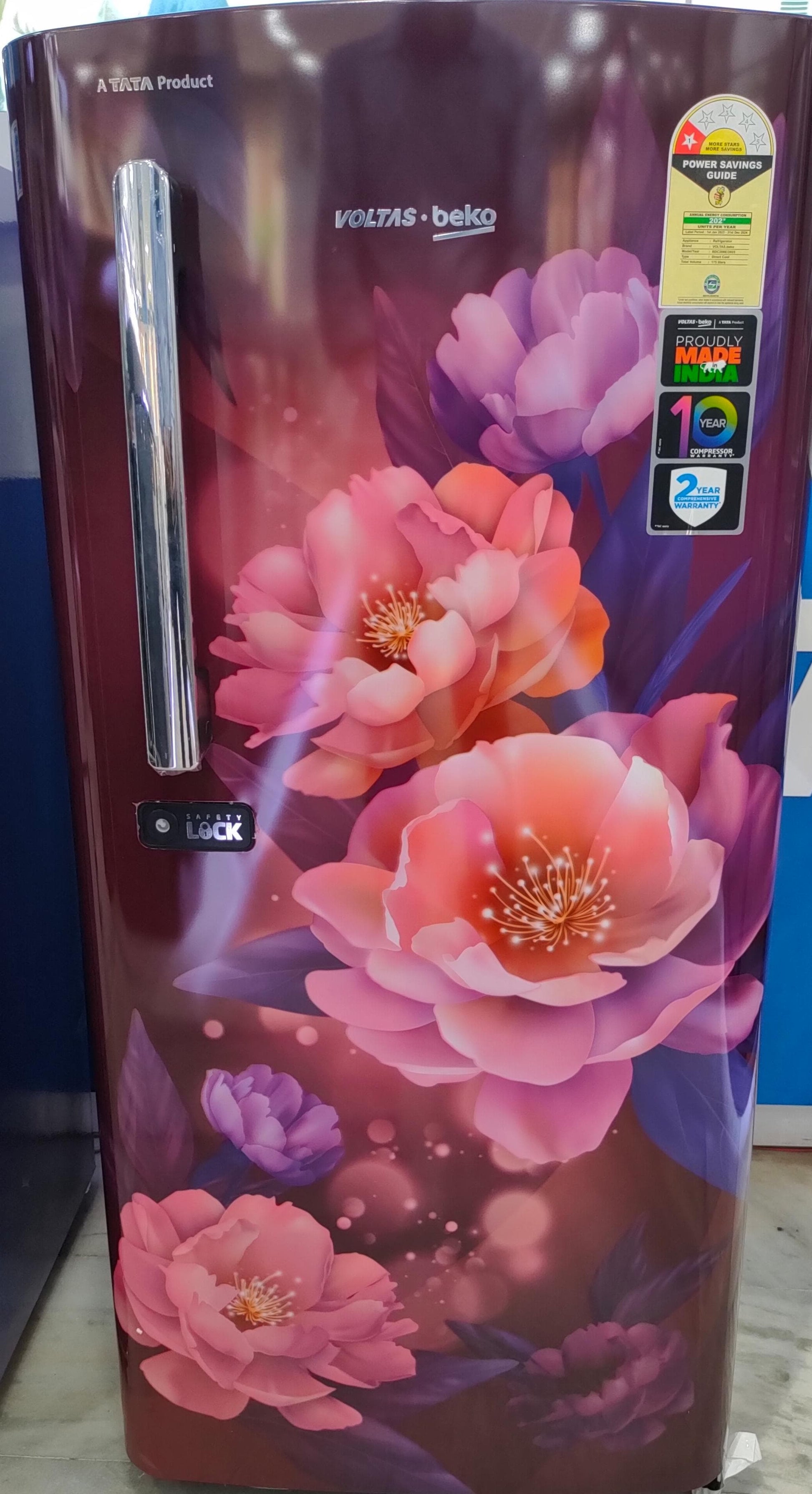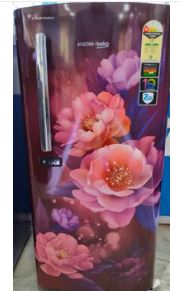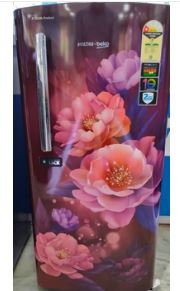 Voltas Beko 175 L 1 star Direct Cool Refrigerator (Peony Wine) RDC208E/S0PWE0M0000GD
27 people are viewing this right now
Regular price
Rs. 11,650.00
Sale price
Rs. 11,650.00
Regular price
Rs. 24,090.00
Tax included.
Free Shipping- 1 Day Delivery * Conditions Apply
Product description
Shipping & Return
All Deliveries made within 24 Hours (Business Hours) post receipt of order. Except Fridays (Weekly Off)

Get GST invoice and save upto 18 % on business purchases. T&C Apply.

2 year comprehensive + additional 08 year on compressor
Key Features:-
Stabilizer Free Operation: This indicates that the refrigerator is designed to operate without the need for an external voltage stabilizer. It can handle voltage fluctuations within a certain range without affecting its performance.

Fresh BoxTM: This likely refers to a designated compartment within the refrigerator specifically designed to store perishable items such as fruits, vegetables, or meat. The Fresh Box helps to maintain optimal temperature and humidity levels to keep the contents fresh for a longer duration.

FlexLiftTM: This feature is not familiar to me, and without further information, it is difficult to determine its exact purpose or function. It might be a proprietary feature or a specific technology related to the refrigerator model you are describing.

Chiller: The chiller compartment in a refrigerator is a section with a lower temperature than the rest of the fridge. It is designed to rapidly chill beverages or store items that require a colder temperature.

Adjustable Toughened Glass Shelves: This indicates that the refrigerator has shelves made of toughened glass that can be adjusted or repositioned according to your storage needs. Toughened glass shelves are known for their durability and ability to withstand heavier items.

Warranty: The refrigerator comes with a comprehensive warranty of 2 years, covering various components and potential defects. Additionally, there is an extra 8-year warranty specifically for the compressor, which is the heart of the refrigeration system.

WxDxH (cm): These dimensions (6465451178 cm) represent the width, depth, and height of the refrigerator, respectively. This information is useful for determining the physical size of the appliance and whether it fits in a desired location.
FreshBoxTM is a revolutionary humidity-controlled crisper designed to extend the freshness of fruits and vegetables for longer durations. It incorporates advanced technology and innovative features to create an optimal environment that helps preserve the quality and nutritional value of your produce.
Key Features of FreshBoxTM:
Humidity Control: FreshBoxTM allows you to adjust the humidity levels inside the crisper. This feature helps create the ideal conditions for different types of fruits and vegetables. By regulating the moisture content, it helps to prevent wilting, maintain crispness, and preserve the natural texture and taste.

Enhanced Airflow: The crisper is equipped with a sophisticated airflow system that ensures proper circulation of air. This feature helps in maintaining a consistent temperature throughout, preventing hotspots or cold zones that can lead to spoilage.

Temperature Regulation: FreshBoxTM incorporates temperature control mechanisms to maintain an optimum temperature range suitable for fruits and vegetables. This helps slow down the ripening process, delaying the onset of decay and prolonging the shelf life of your produce.

Optimal Lighting: The crisper is designed with carefully calibrated LED lighting. This lighting mimics natural sunlight, providing the right spectrum and intensity required for optimal produce preservation. It also helps inhibit the growth of harmful bacteria, ensuring that your fruits and vegetables stay fresh and safe to consume.

Storage Capacity: FreshBoxTM offers ample space to accommodate a large quantity of fruits and vegetables. It is designed to efficiently utilize the available storage area, providing separate compartments and adjustable shelves to organize different types of produce.

Easy-to-Use Controls: The controls of FreshBoxTM are intuitive and user-friendly, allowing you to adjust humidity, temperature, and other settings with ease. The display panel provides clear information about the current settings and alerts you if any adjustments are required.

Energy Efficiency: FreshBoxTM is designed to be energy-efficient, minimizing power consumption without compromising on performance. This ensures that your produce remains fresh while reducing your environmental footprint.
FlexLiftTM is a versatile storage solution that features door racks that can be adjusted to your preferred height. This innovative design allows you to customize the storage space within your cabinets or refrigerators, providing flexibility and convenience.
The adjustable door racks of FlexLiftTM can be raised or lowered to accommodate items of different sizes. Whether you need to store tall bottles, condiments, jars, or smaller items, you can easily configure the door racks to suit your specific needs. This feature maximizes the use of space and helps you organize your items more efficiently.
With FlexLiftTM, you no longer have to worry about limited storage options or struggling to fit items of varying heights into fixed shelves. The adjustable door racks offer a practical solution by allowing you to adapt the storage space to match your preferences and the items you need to store.
Specifications
Product Color- Peony Wine
Made in india

Mahajan Electronics
89-90 Raja Garden
New Delhi-110015
Free 24 Hours Delivery is applicable for NCR Region. Area includes Delhi, Gurugram, Faridabad, Ghaziabad, Noida.
 Mahajanelectronics.com   makes every effort to service the orders placed with them, as per the specification and delivery timelines mentioned against each product. As a policy, we request you to kindly check the product and the accessories while accepting the delivery. In case of any discrepancies, kindly bring it to our notice before accepting delivery by calling us on +9710000251  or email us on  manas@mahajanelectronics.com  . After acceptance of delivery of the product, Mahajanelectronics.com    cancellation free of charge on Cash on Delivery orders. In case of prepaid order, a charge of 3% will be applied & refund shall be made within 24-48 hours.
Once delivery is made and product is kept packed unused & customer wants to return, we shall accept return within 24hrs of receipt of order in this case Cancellation charge of 3% will be applicable and we shall initiate refund post receipt of product within 24-48 hours.
Please Note In this case product should not have been unboxed. Moreover, it shall be at our discretion that we accept or not.
 After sales service is provided by the authorized service centers of the respective manufacturing companies. For product service requirement, kindly contact us on the above-mentioned details for the same.
For any product/service available on sale on Mahajanelectronics.com , the company does not assume any liability.