Description
 All Deliveries made within 24 Hours (Business Hours) post receipt of order. Except Fridays (Weekly Off)
Fully-automatic top-loading washing machine; 7 kg With Built In Heater


15 wash programs

 2+1 year complete warranty and  10 Year Warranty on Motors(T&M).

Soft shut wash lid




In build water heater

Detergent indicator

Cloth load indicator

Note: Product color may slightly vary due to screen setting and photographic lightening effect

In built water heater

100% Water Resistant Digital Panel

Eco Mode

Flexi-wash Technology

Cascade Waterfall

Child Lock

Cloth Load Indicator

Delay Start

Detergent Indicator

Anti-Rust Cabinet

Gravity Drum

Magic Filter

Memory Backup

Pre-Soak

Soft Shut Wash lid

Softener Dispenser

Tub Clean

Aquajet Pulsator

14 Wash programs

Anti-Rodent Mesh

10 Year Motor Warranty
With an inbuilt heater and a unique roller coaster wash that combines the power of 3 distinct wash tub features - the Aquajet pulsator, Gravity Drum and Cascade Waterfall, Godrej Eon Allure delivers a superior anti germ wash. Its Eco-mode helps save upto 44 L of water while its motor comes with a 10 year long warranty. But the proof of its elegant design lies in the details like an elegant touch panel which is 100% water resistant or the customise wash program which lets you choose your own unique wash program.
General Information
Model Name

 

WT EON ALLURE 700 PAHMP Mt Rd

Product Name

 

Fully Automatic Top Load Washing Machines

Range

 

Eon Allure

Wash Capacity (kg)

 

7 Kg

Dimensions (w x d x h) mm

 

545 x 620 x 985

Special Features

 

Rollercoaster Wash Technology, Flexi-Wash Technology, 100% Water Resistant Control Panel, Cloth Load Indicator, Magic Filter

Net Quantity

 

1N
Program
Wash Program

 

Daily, Heavy, Wool, Delicate, Whites, Rinse + Spin, Wash + Rinse, Wash + Spin, Tub clean, Wash Only, Rinse only, Spin only, Daily Eco, Heavy Eco, White Eco

Number of Wash Programs

 

14

Child Lock Indicator

 

Yes

Delay Start (hrs)

 

Yes

No. of Water Levels

 

4

In - built Heater

 

Yes

Eco Mode

 

Yes

Memory Backup

 

Yes

Spin Timer (min)

 

12

Wash Timer (min)

 

12
Warranty & Support
Warranty Details

 

10 Year Warranty on Motor and 2 year Warranty on Entire Washing Machine​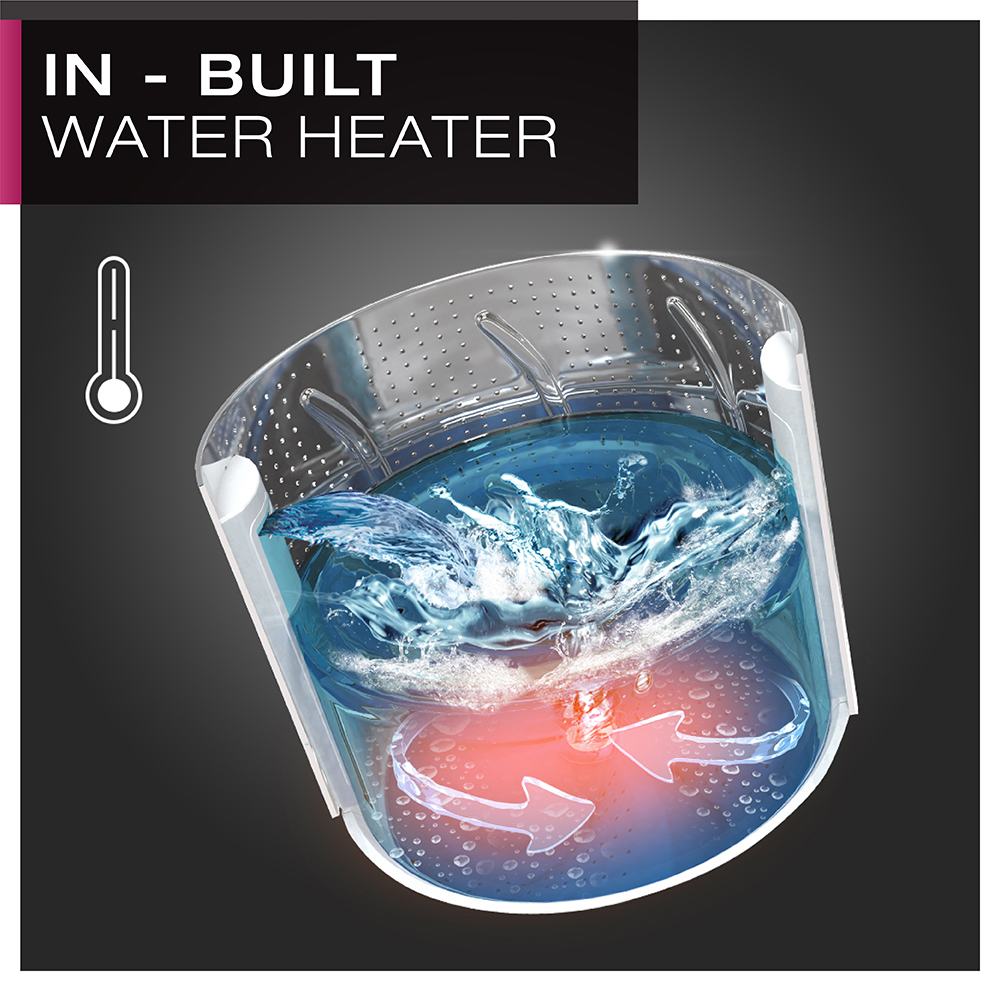 In built water heater heats water up to 55 degrees centigrade for a hygienic wash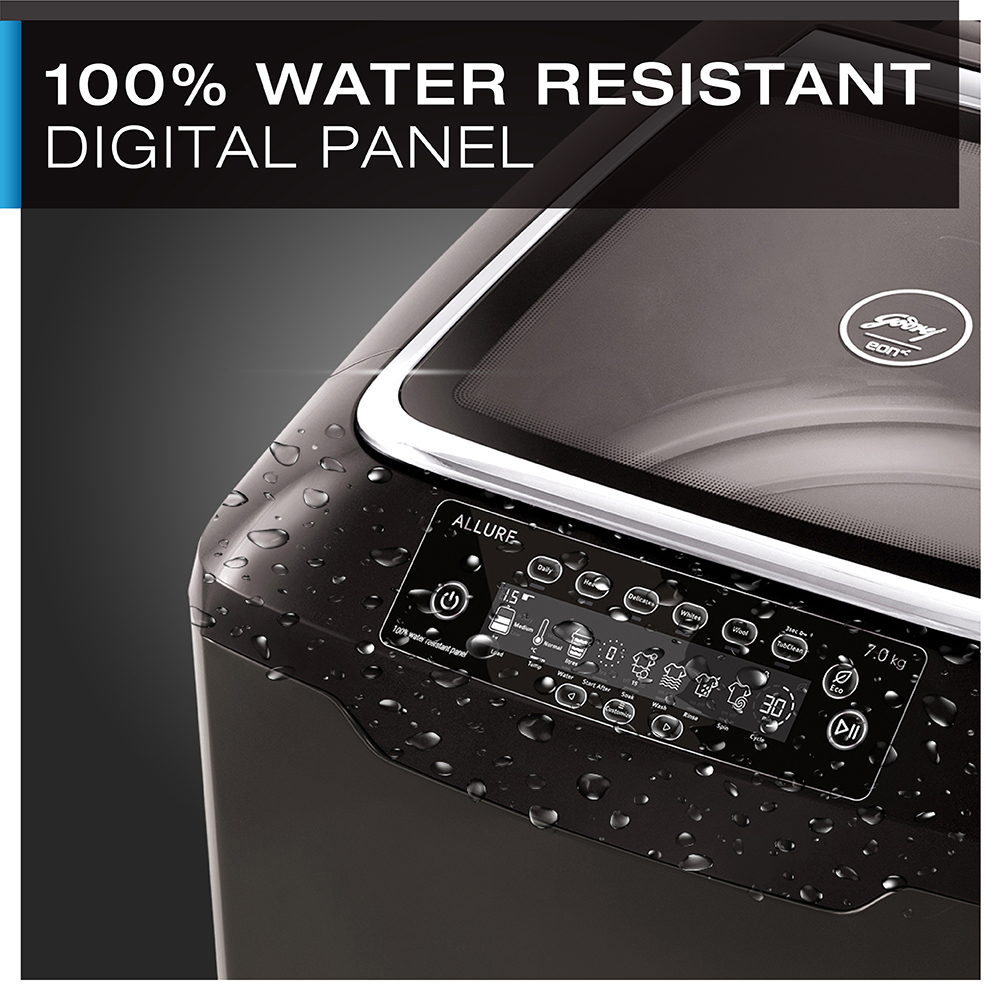 100% Water Resistant Digital Panel has inlay moulded technology that doesn't allow any water and dust seepage into the digital control panel.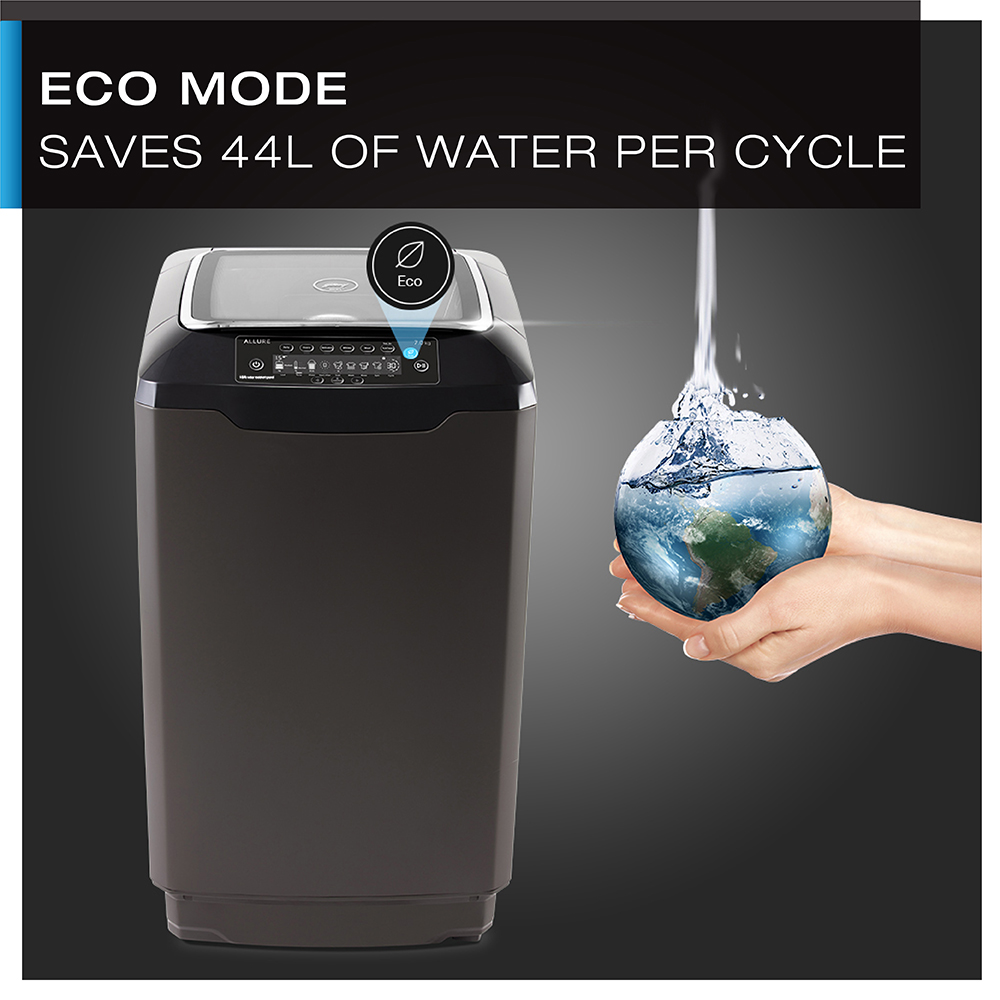 Eco mode minimizes water consumption in comparison to the normal wash mode, saving up to 44 litres of water.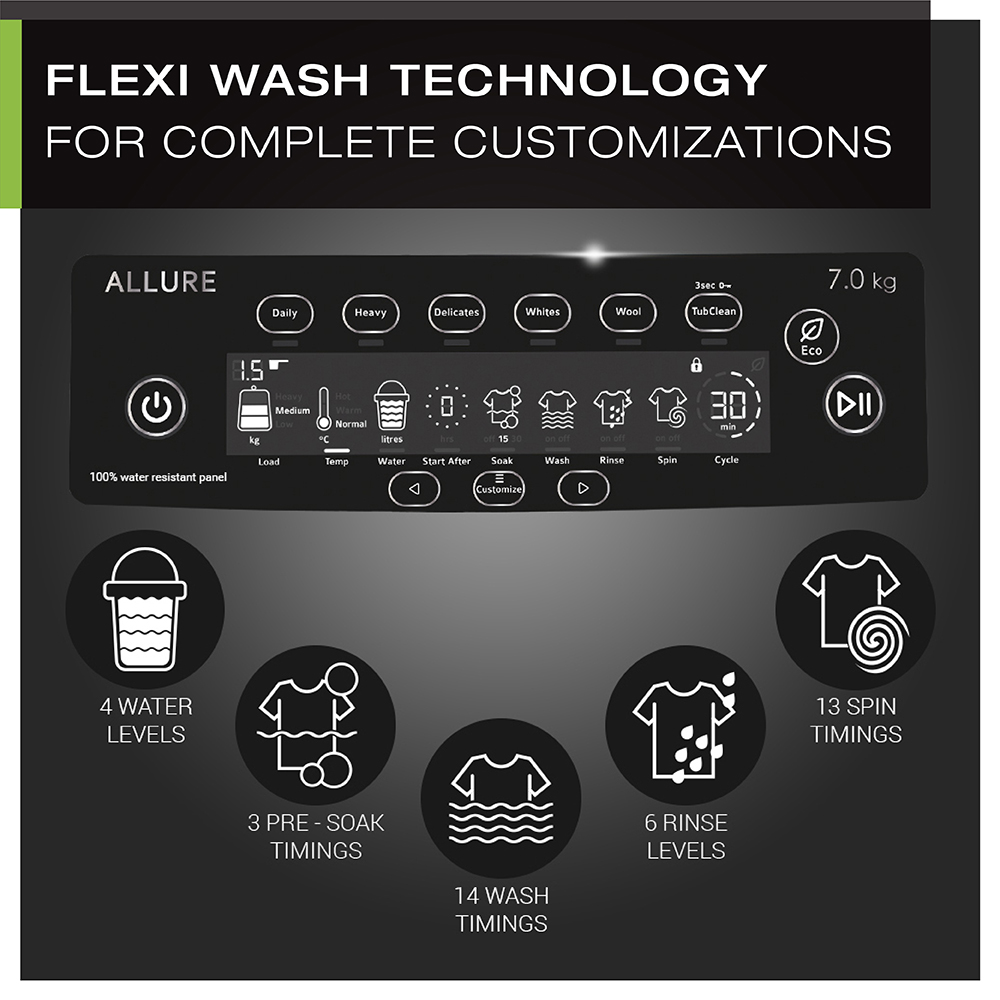 Flexi-wash Technology customises the pre-soak, wash, rinse and spin operations, as per the clothes being washed.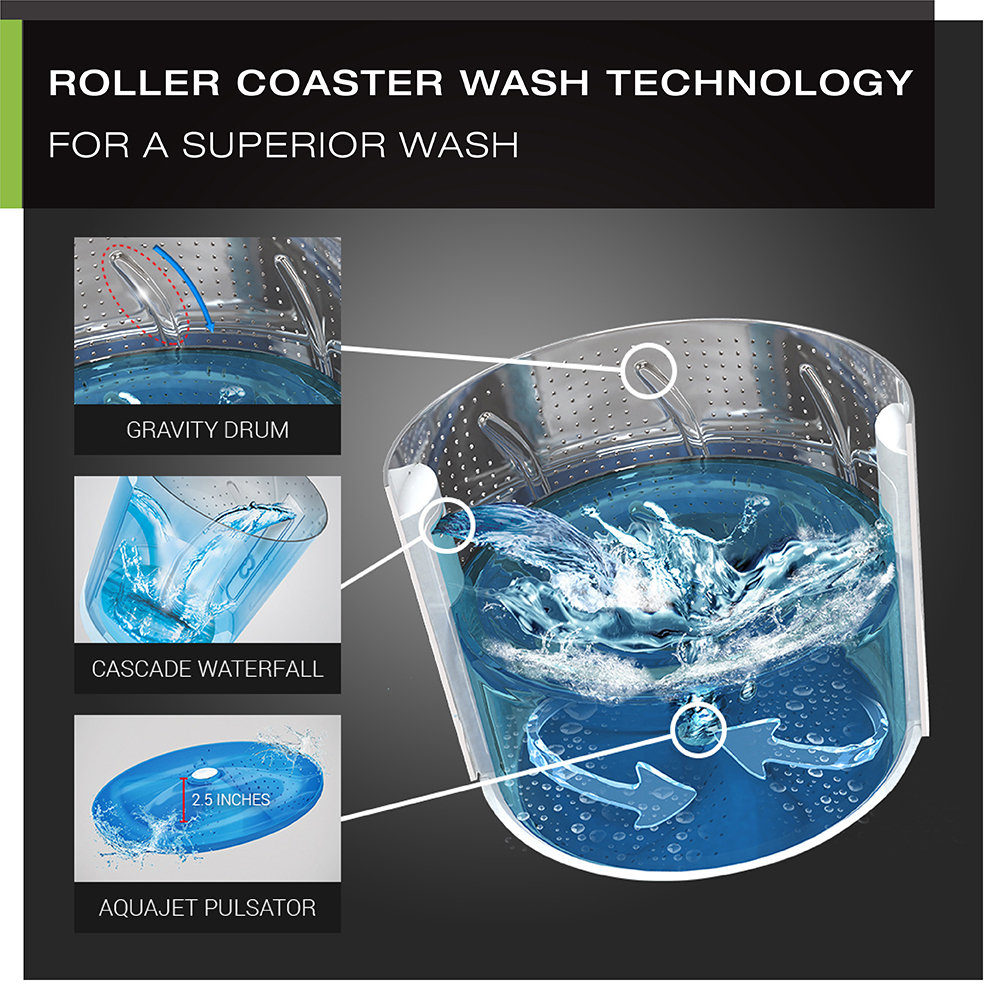 Cascade Waterfall Technology creates a unique wash action, with water dropping in from both sides of the drum like a waterfall, forcing dirt out of the fabric.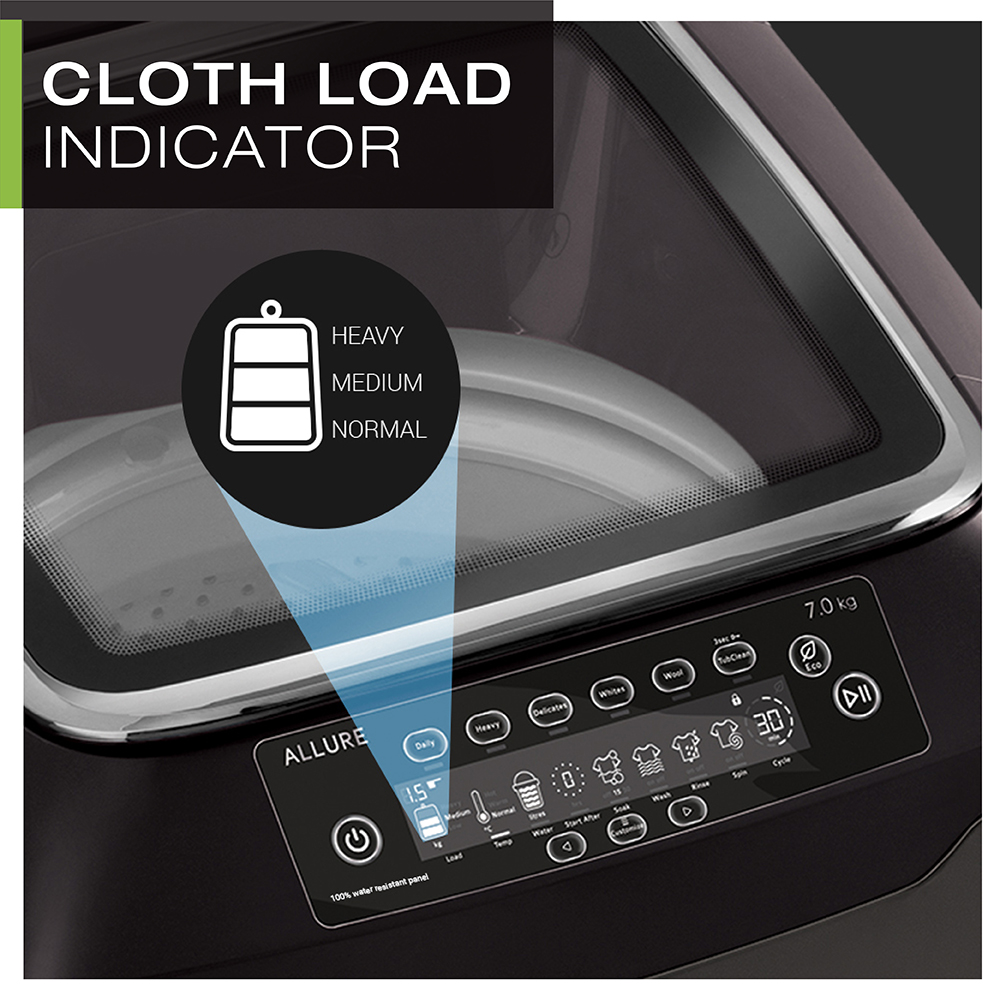 The built-in cloth load indicator displays the dry weight of your clothes allowing you to optimise each wash.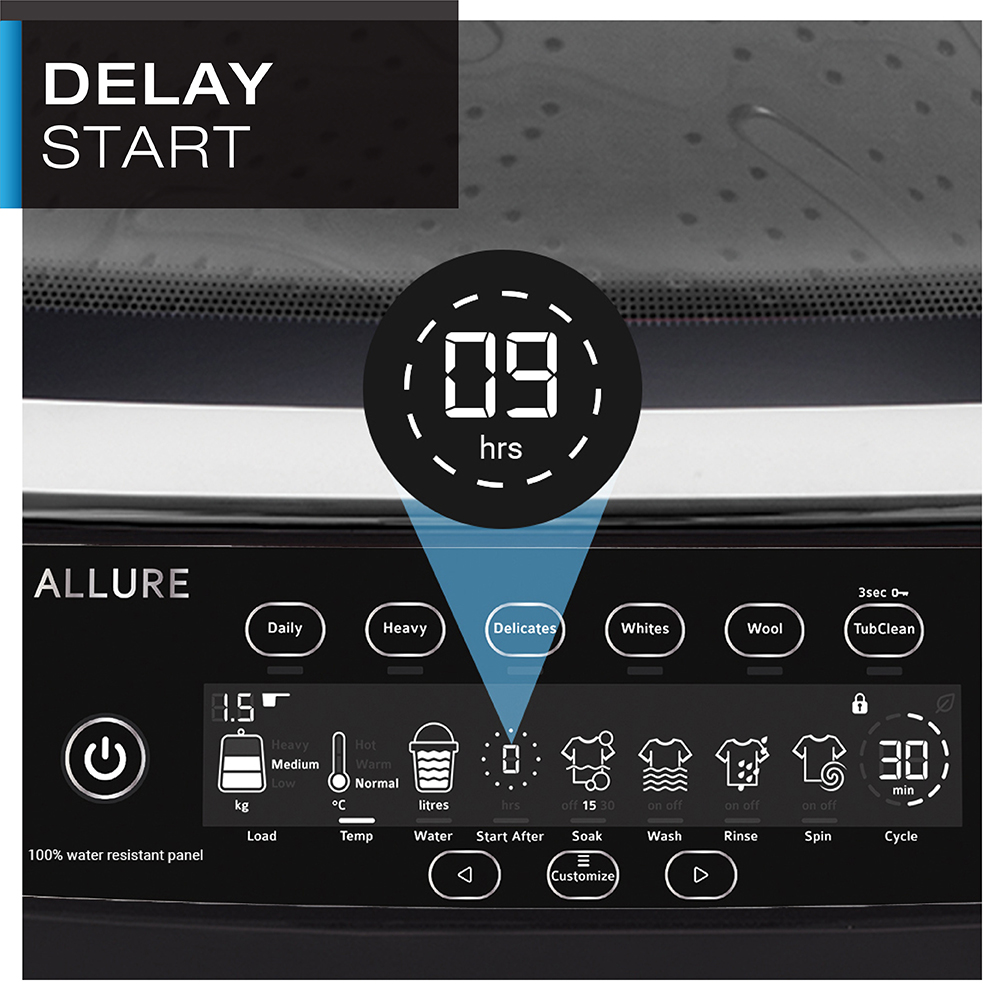 Delay start function lets you delay the start of your wash cycle by upto 23 hours, allowing the machine to operate at a convenient time.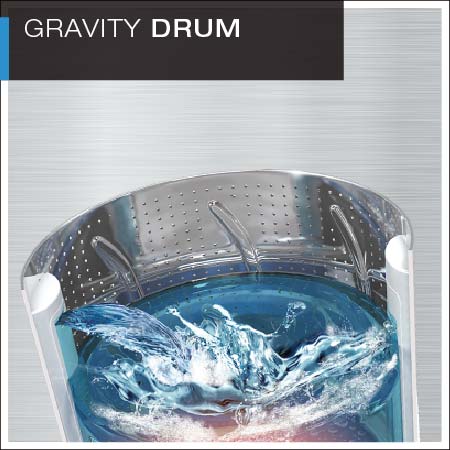 The contours inside the Gravity Drum facilitates cloth movement in five different ways for more scrubbing action, resulting in dirt removal.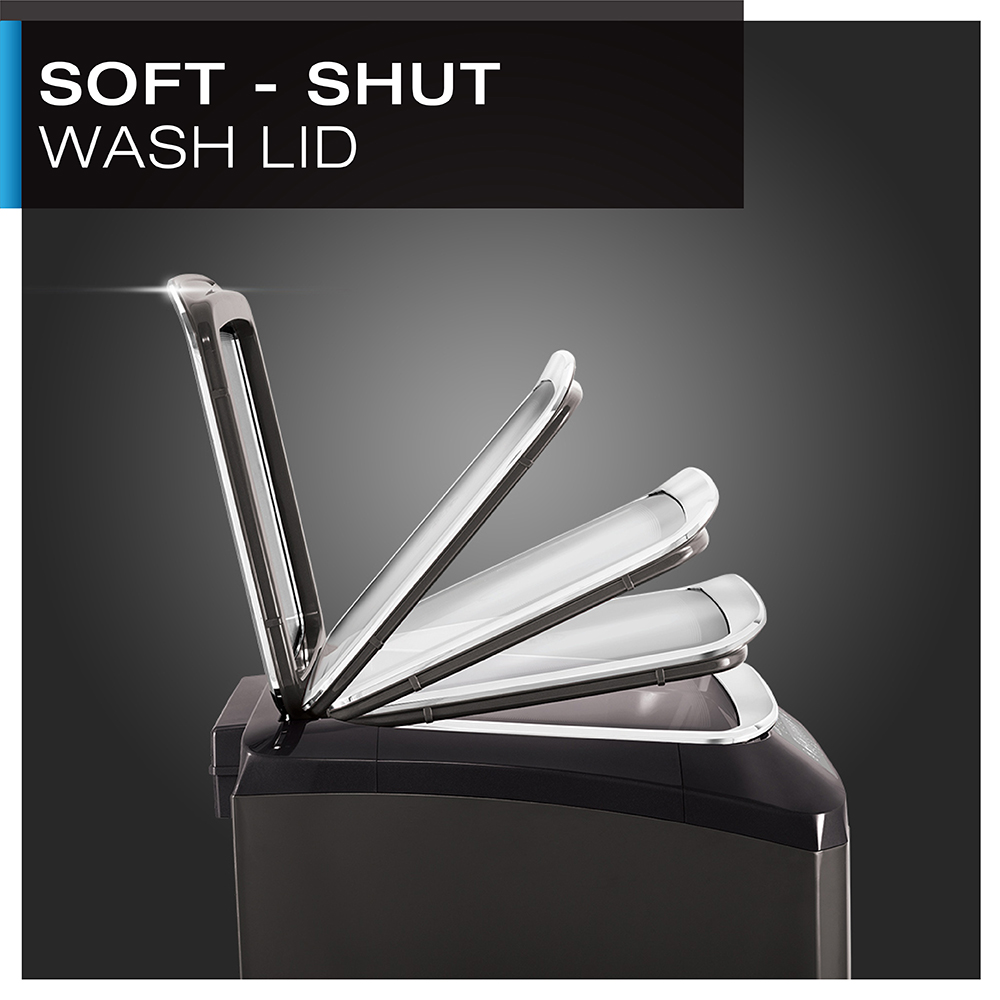 The machine's soft shut lid lifts and shuts gently, preventing any injury.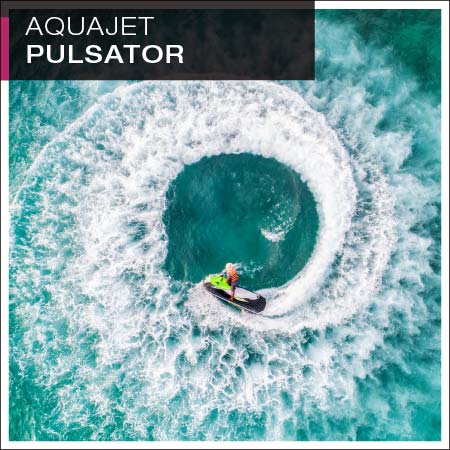 Aquajet Pulsator has an aerodynamic design that generates strong turbulence and increased fabric contact resulting in more scrubbing.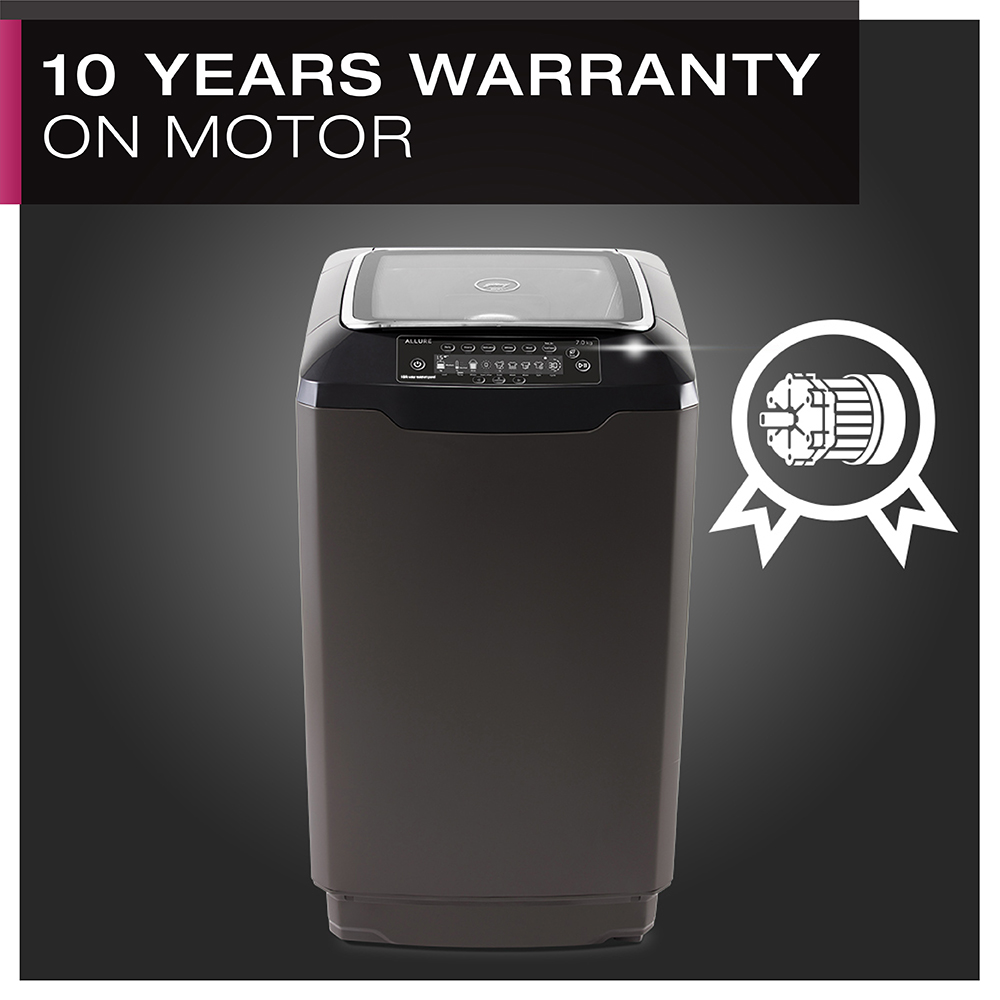 10 Year Warranty on Motor and 2 year Warranty on Entire Washing Machine
Aquajet Pulsator

The Aerodynamic Design of the pulsator is inspired by the modern aircraft rotors and it's larger surface area delivers strong turbulance and offers more contact resulting in better scrubbing. This ensures penetration of detergent rich water into the clothes.

Cascade Waterfall

The new Godrej Eon Allure Washing Machine comes with a unique washing action called the Cascade Effect. This acts like a waterfall which flows from both sides of the drum. The dirty water flows out as fresh water gushes in to take its place.

Gravity Drum

The unique drum contour design ensures effective and efficient cloth movement inside the tub which leads to a five way wash and also provides a better scrubbing action. The gravity drum design is highly effective for dirt removal and consistent wash performance.

Eco Mode

The Eco mode* let's you smartly wash clothes by minimizing water consumption in comparison with the normal mode. It helps to save 44 L water.

In-Built Heater

This comes with water heater which can heat the water up to 55 degrees. It helps rid clothes of bacteria and germs to ensure a hygienic wash for your family.

Delay Start

The delay start feature allows the user to set a delay in starting operation by upto 23 hours. This allow the wash take place even in your absence.

Pre-Soak

This function let's you pre-soak heavily soiled clothes till upto 30 mins, for a better wash result. Choose the soak time depending on the condition of your laundry.

Detergent Indicator

The machine automatically detects the amount of detergent to be added as per the cloth load.

Cloth Load Indicator

The machine comes with a cloth load indicator which indicates the weight of the dry load of clothes on the digital panel, enabling the user to be aware of the correct load that should be fed in the machine.

Child Lock

You can lock all the buttons on the control panel using this to prevent the child from changing the settings. You just need to long press the Tub clean button for 3 secs to activate the child lock.

Tub Clean

It's a self cleaning mechanism built in to the machine in which the machine runs itself to remove any residue left from the previous washes, hence keeps it clean thereby sanitizing the tub and removing any unpleasant odour.

Soft Shut Wash lid

The ergonomically designed lid lifts easily and gently falls down to protect hands.

Magic Filter

Effective filtration that ensures lint collection even at low water levels.

10 Year Motor Warranty

Guarantees you peace of mind for 10 years..

Anti-Rust Cabinet

The cabinet is made from pre-coated galvanized steel to ensure a long life.

Anti-Rodent Mesh

Effective filtration that ensures lint collection even at low water levels.

Softener Dispenser

The tub has a sofetner dissolving mechanism, ensuring its even distribution.

Memory Backup

During program operation if there is a power cut, the machine memorizes the program operation and on restoration of incoming power, the machine will resume from exactly where it stopped
Payment & Security
Your payment information is processed securely. We do not store credit card details nor have access to your credit card information.