Description
Highlights
LED Display
Water Resistant
Product Description
Actualize your fit self by using this excellent smartwatch.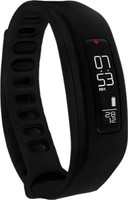 Eco System That Works For You
Lead a clean and healthy life by making the best of your training sessions. This watch allows you to keep track of your physical activities and sleep cycles so that you can live life to the fullest.
How it Works
Keep to your fitness goals by following the daily guidance that certified health and fitness professionals provide you through this device. Stay focused by reviewing your physical progress with your coach.
Payment & Security
Your payment information is processed securely. We do not store credit card details nor have access to your credit card information.