Description
 All Deliveries made within 24 Hours (Business Hours) post receipt of order. Except Fridays (Weekly Off)
Exclusive Offer @ Mahajan Electronics ( Just Here)
Fully Automatic Front Load with special settings for best wash quality

Stainless Steel Best in class, Can withstand higher spin speeds for quick drying and durable

6 kg : Great for Single/Couple

Fully Automatic Front Load Washing Machines have Great Wash Quality with very less running cost
800 rpm : Higher the spin speed, lower the drying time
Number of wash programs - 8 : With higher wash programs-Wash a variety of fabrics
6 kg : Great for Single/Couple
Description
Now, you can dress to impress every day in spotless and hygienic garments, thanks to this IFB 6 kg Fully-automatic washing machine. This essential home appliance features the Auto Imbalance Vibration Control technology, the Ball Valve Technology, and a Crescent Moon Drum for quick and efficient washing of your laundry.
Deep Clean Technology
This IFB washing machine while being gentle on your clothes, is tough on the stains, thus ensuring your clothes look fresh and new after every single wash.
Aqua Spa Therapy
Let your washing machine treat your clothes with the gentleness of a trained spa therapist. This feature of the IFB machine treats your fabrics in the gentlest possible manner by hydrating, exfoliating, cleansing and rejuvenating them. Fresh clothes every single time.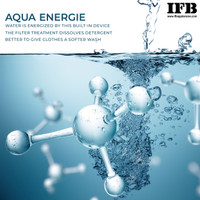 Aqua Energie
Tired of having detergent-crusted clothes coming out of your washing machine? Fret no more. This IFB washing machine comes equipped with a built-in filter that helps the detergent to dissolve in a precise manner so that your clothes come out clean yet soft.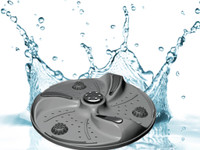 Triadic Pulsator
An innovative feature, the Triadic Pulsator helps this washing machine wash away the dirt on your garments in 3 simple steps. Stubborn dirt is removed using the Soft Scrub Pads in the gentlest manner. The Powerful Swirl Jets ensure every corner of the fabric is dirt-free. The Mechanical Centre Punch action flushes out the dirt giving you clothes that are soft and clean.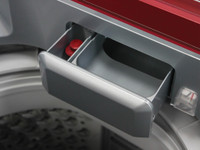 Auto Softener Dispenser
This dispenser adds a softener before a wash-cycle commences thus ensuring your clothes remain soft after every wash.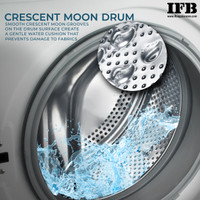 Crescent Moon Drum
The laundry tub in this washing machine has grooves that create a water cushion during a wash cycle. This ensures that your clothes don't get damaged even after a tough wash.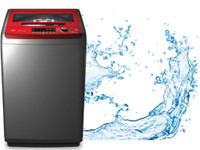 Hygiene Plus
This feature protects your skin from the detergent residue through additional rinses.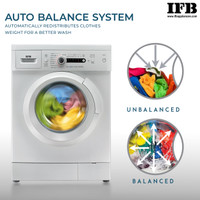 Auto Balance System
This washing machine redistributes the cloth load in the laundry tub to ensure stability.
General
In The Box

Drain Hose
Protective Rat Mesh
User Manual
Water Inlet Pipe
1 Washing Machine

Brand
Model Name
Function Type

Fully Automatic Front Load

Energy Rating
Washing Capacity
Washing Method
Maximum Spin Speed
In-built Heater
Color
Dryer Type
Water Level Selector
Water Consumption
Shade
Technology Used

Crescent Moon Drum, 2D Wash System, Super Warranty With Wide Service Network, Aqua Energie, Auto Balance system, Laundry add, Ball Valve Technology
Warranty
Warranty Summary

4 Years Comprehensive Warranty and 10 Years Spare Part Support from IFB

Covered in Warranty

IFB warrants during 48 months of the date of purchase of new washing machine all the parts of the washing machine which is proved to be defective in workmanship and/ or materials shall be repaired or replaced free of charge on intimation to the company/ company's authorised service centre nearest to the place where appliance is installed. Warranty is subject to certain limitions of warranty. Completed warranty card should be presented to the authorised personnel at the time of service/ maintenance. Serial no. on the product should not be defaced / altered.

Not Covered in Warranty

Warranty does not cover, parts
Outer cabinet and plastic, parts
Any accessories external to the product
Serial number is removed, altered or obliterated from the machine
Defects due to cause beyond control like lightning, abnormal voltage, acts of god or while in transit to the service center's or purchaser's residence
Site (where the premises is kept) conditions that do not confirm to the recommended operating conditions of the machine
Defects caused by improper use as determined by the company personnel modification or alteration of any nature made in the electrical circuitry/ or physical construction of the set
Product is not used according to the instructions given in the instructions manual
Wash Modes
| | |
| --- | --- |
| Wash Program Types | |
| Quick Wash | |
| Other Wash Modes | Cotton Eco, Woollens, Additives/ Rinse, Gentle, Mixed Fabrics, Drain + Spin, Cotton |
Body Features
| | |
| --- | --- |
| Tub Material | |
Convenience Features
| | |
| --- | --- |
| Digital Display | |
| Memory Backup | |
| Other Convenience Features | Wash Program Time Duration (Minutes): 31 to 151, Auto Imbalance Sensing & Control, Rapid Wash, Electronic Control, Auto Restart, Temperature Control: Hot, Cold, Warm, Program Status Indication, In built Easy Iron |
Power Features
| | |
| --- | --- |
| Power Requirement | |
| Other Power Features | Maximum Connected Load (W): 2150, Energy consumption (Cotton/Eco 60°C)(kWh): 0.86 |
Additional Features
| | |
| --- | --- |
| Child Lock | |
| Other Features | Crescent Moon Drum, Self Diagnosis, Laundry Add Option, Auto Imbalance Sensing & Control, Smart Selector Switch, Barrier Free Program Console, Inbuilt Anti Crease, Foam Control, 2D Shower System, Aqua Energie, Water Supply: 0.3 Bar - 10 Bar, Audio & LED Indication |
Dimensions
| | |
| --- | --- |
| Width | |
| Height | |
| Depth | |
| Door Diameter | |
| Door Width | |
| Door Opening | |
| Weight | |
MADE IN INDIA
* Conditions Apply (UE)