Product description
Shipping & Return
3 year warranty on product
Delivery within 7 days post 100% receipt of payment
Auto On/Off

The smart Kangen® shuts down on it's own to conserve energy

Plug & Play

No more switch! Just plug the machine in and start generating water.

Automatic Cleaning

Water drains for 10 seconds after 10 minutes of use

Smart Filter Technology

Let your machine tell you when it's time to change filters
The K8 (Kangen 8) is Enagic's most powerful antioxidant machine - featuring 8 platinum-dipped titanium plates for improved water ionization and increased antioxidant production potential.
You can enjoy this Kangen Water® machine in any country, thanks to its worldwide multi-voltage power supply and interchangeable plug capability (sold separately). If you're looking for a powerful and versatile machine with plenty of user-friendly and energy-saving automated features, the K8 is for you.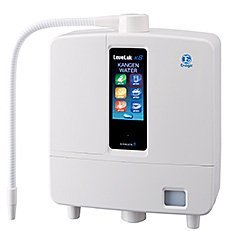 Higher Antioxidant Power
The mighty K8 is a mighty antioxidant producer! The K8 water ionizer generates a continuous stream of 5 versatile types of water to meet all your versatile commercial needs: Strong Kangen Water, Kangen Water®, Neutral Water, Beauty Water, and Strong Acidic Water.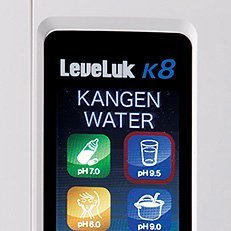 Full Color LCD Panel
The K8 is extremely user-friendly, thanks to a large full color LCD panel and clear voice prompts. With just a touch of a button, you can have access to any of the 5 waters you choose. Your machine will confirm the water you have selected with a pleasant voice, and in moments the machine will generate healthy, ionized water through a flexible pipe.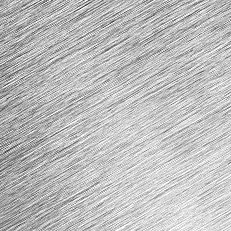 8 Titanium Plates
The K8 is similar to Enagic's Flagship SD501, but it contains an extra platinum-coated titanium plate. The additional plate means improved water ionization, increase antioxidant production potential, and stable production of pH and ORP at a higher flow rate. The K8 is great for small businesses and families.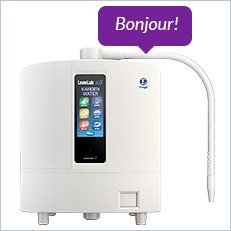 Speaks EIGHT Languages!
8 Language Display and Audio in Japanese, English, French, German, Chinese, Italian, Spanish and Portuguese
Product Specifications
Electrode plates:
8

 

Plate size: (mm)
135 x 75
Negative ORP: (mV)
-722

 

pH Range:
2.5 - 11.5
Generates:
5 water types

 

Wattage: (W)
230
Total weight: (kg)
5
Dimensions WHD: (mm)
279 x 345 x 147
Production rate: (l/min)
Kangen Water®: 4.5 - 7.6
Acidic Water: 1.5 - 2.6
Strong Acidic Water: 0.6 - 1.1
Ease of Use:
Fully automatic, very simple to operate
Languages:
8

 

Warranty: (years)
5
Mahajan Electronics
89-90 Raja Garden
New Delhi-110015
Free 24 Hours Delivery is applicable for NCR Region. Area includes Delhi, Gurugram, Faridabad, Ghaziabad, Noida.