Product description
Shipping & Return
Product reviews
15% CASHBACK MAX 9000rs. ON SELECTED CREDIT CARD T&C *
we shall be sending you payment link thru which u can transaction. offer available on select cards only.
To know the process please call or whtasapp us on +919710000251

Fully-automatic top-loading washing machine; 16 kg

Warranty: 3 years on product, 10 years on motor

DIT motor with 10 years warranty

Soft door closure

Magic dispenser
| | |
| --- | --- |
| Brand | Samsung |
| Model | WA16N6781CV/TL |
| Capacity | 16 Kilograms |
| Installation Type | Free Standing |
| Form Factor | Top-Loading |
| Special Features | Inverter |
| Colour | Black Stainless |
| Control Console | Fully Automatic |
| Access Location | Top Load |
| Voltage | 230 Volts |
| Material | Ceramic |
| Included Components | 1 Washing Machine, User Manual, 1 Inlet Pipe and 1 Outlet Pipe |
| Batteries Included | No |
| Batteries Required | No |
Product description
The 16 kg top load washing machine comes with dit motor for complete peace of mind with 12 year motor warranty. The diamond drum (stainless steel) makes washing action soft and gentle on clothes. The magic dispenser to ensure that the opening and closing of top lid gentle closes.
Powerful Wash with Less Tangles
Wobble technology provides gentle care of fabrics without compromising washing performance. Specially designed Wobble pulsators generate a dynamic, multi-directional washing flow that prevents tangles and increases washing power.
Soft on Clothes
The Diamond Drum features a unique 'soft curl' design with smooth, diamond-shaped ridges that's supremely gentle on your clothes. Its small water exit holes also help protect fabric by minimizing the cases where clothes are trapped and damaged.
Tempered Glass Window
A tempered glass door makes it easy to see inside, but will last much longer. It's designed to withstand a great deal of pressure and is resistant to damage and scratches.So it stays looking good for a long time.
Built In Sink
Wobble Technology
Diamond Drum
Magic Dispenser
Magic Dispenser
Easy pre-treatment
Pre-treat your clothes easily and efficiently. The new activ dualwash has a bigger sink to pre-treat delicate and heavily soiled clothes. It has a built-in water jet, which can be controlled with a button. And, with everything in one place, you won't drip water everywhere.
Dissolves detergent
Wash without worrying about residual detergent. A Magic Dispenser is specially designed to create a powerful water vortex. It dissolves liquid and powder detergent and disperses it evenly before the wash cycle starts. So it minimizes the risk of any residue being left on your clothes and washer*.
* Compared to conventional Samsung washing machine without a Magic Dispenser.
Gentle clothes care
Stop clothes from getting tangled up and damaged. Wobble technology provides gentle care of fabrics. Its Wobble pulsators generates a dynamic, multi-directional washing flow that prevents tangles, twists and knots. It also gently and thoroughly cleans your garments with its increased washing power.
Powerful filtration
Keep unsightly speckles off your whites and darks, and protect your drainage from getting clogged up. A Magic Filter gathers the lint, fluff and particles that come out of your laundry, so your clothes always appear spotlessly clean. And it's easy to empty, so you can keep it working efficiently.
Less noise & energy
Enjoy greater energy efficiency, less noise and a long-lasting performance. Digital Inverter Technology uses strong magnets for a quieter and more powerful performance, but consumes less energy*. It provides outstanding durability, backed-up by a 10 year warranty.
* Based on internal data, compared with Samsung conventional model.
Intensive Cleaning
Keep clothes looking spotless, however dirty they get. With the touch of a button the Intensive Wash function helps remove a wide variety of stubborn stains. It quickly pre-mixes detergent and enables the water to penetrate deep into the fabric. So dirt can be removed more effectively.
Stylishly ergonomic
Enhance your kitchen and your life with a stylish and ergonomic design. The curves of its round edged design look beautifully elegant. A slanted, dual cluster control panel, with an ice blue LED display, also provides extremely clear information. And a durable glass door makes it easy to see inside.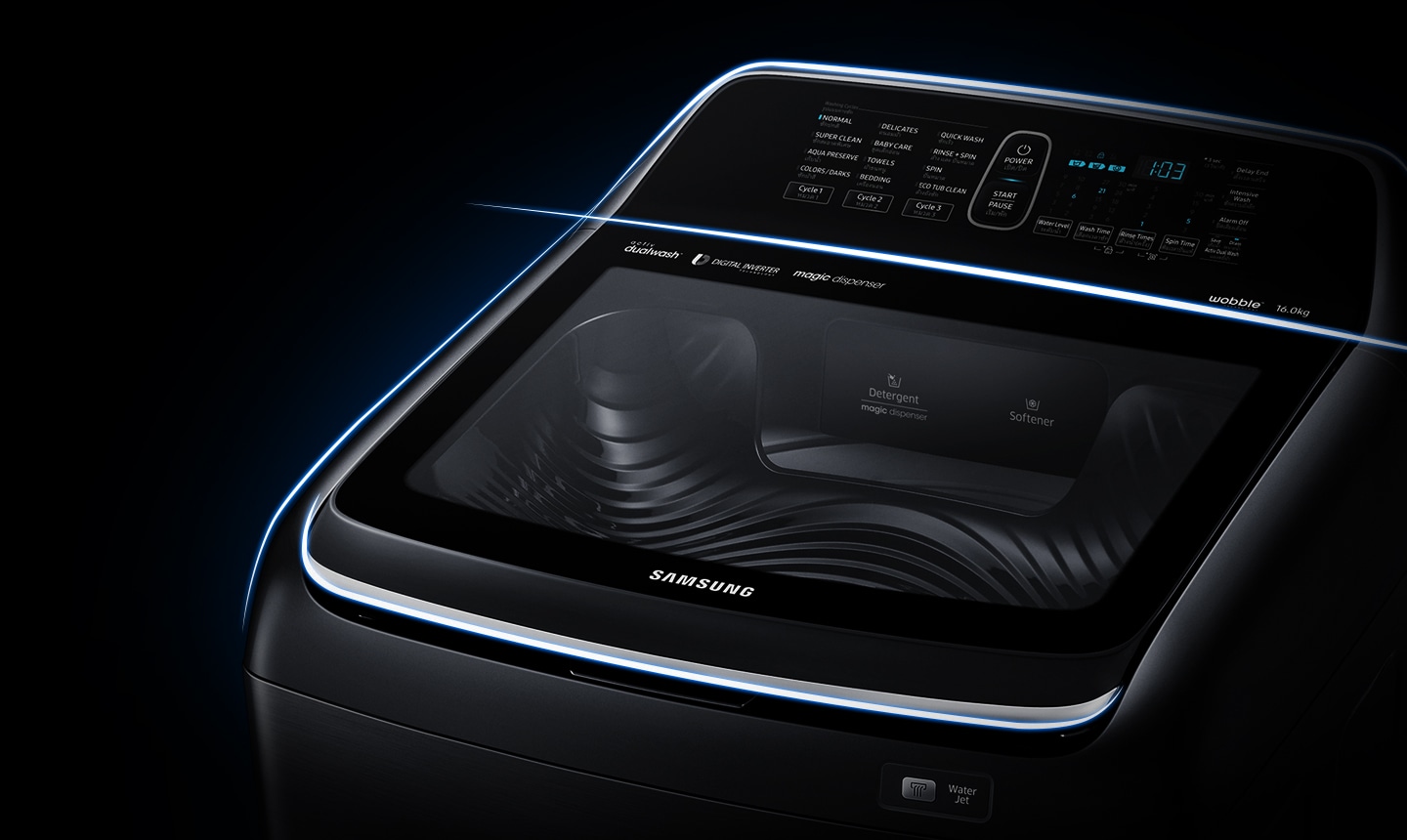 Magic Dispenser 

Magic Dispenser

16.0kg  

Washing Capacity (kg)

2nd Diamond drum   

Drum type

STS Wobble  

Pulsator

637 x 1095 x 701mm   

Net Dimension (WxHxD)

47kg    

Net Weight
Country of Origin - Thailand
Shipping Options
Mahajanelectronics.com thanks you for your patronage and values your purchases with us. Given below are the details for shipping/delivery of the products sold on www.mahajanelectronics.com for your kind reference.
Shipping/Delivery Area
Currently delivery of products purchased on www.mahajanelectronics.com is available in, India, country limits only (Kindly check Pin Code for Delivery Serviceable Area). As and when we would provide delivery to other locations, the same would be updated here, we request you to kindly check the Shipping Options link on our home page for further updates.
Mahajanelectronics.com provides FREE shipping at your location at Ground floor in Delhi NCR only, we request you to place your valued order and enjoy the FREE shipping/delivery offer. Your order will be shipped and delivered within 24 hours of placing the order in Delhi NCR, delivery at other location in India will take 5-7 days after placing the order. We believe in providing our dear customers with the best service and hence do not charge for delivery; however, we reserve the right to change/discontinue the FREE Shipping/Delivery at any time.
Delivery
Mahajanelectronics.com provides FREE Delivery for all products sold on www.mahajanelectronics.com to your location at Ground floor in Delhi-NCR city limits only (Kindly check Pin Code for Delivery Serviceable Area). There are no hidden charges applicable. May delay in the delivery is due to stock unavailability or some technical issues that will not considered in the shipment date/days. The day of booking your order is taken as day 0.
Cancellation of Shipment
After order confirmation and payment completion, Mahajanelectronics.com will endeavor to deliver your product in the stipulated delivery time to your beneficiary address (Kindly check Pin Code for Delivery Serviceable Area). Mahajanelectronics.com will not allow for Cancellation after shipping the product for any reason and request our dear customers accordingly to confirm the purchase first and then book with www.mahajanelectronics.com. Customer can raise a request for replacement or return. Please check the payment & return policy for details.