Description
 All Deliveries made within 24 Hours (Business Hours) post receipt of order. Except Fridays (Weekly Off)
*U/E

Get GST invoice and save upto 18 % on business purchases. T&C Apply.

10% CASHBACK MAX 5500RS. ON SELECTED CREDIT CARD T&C *
we shall be sending you payment link thru which u can transaction. offer available on select cards only.
To know the process please call or whtasapp us on +919710000251

Easy Home Bar ( Quick & Easy access to drinks)
Multi Sensors ( 7 sensors to optimize cooling)
All around cooling (Cools very corner)



Digital Inverter Technology
More style and space, less wasted energy
Highlights
Harmonious Design
Enhance your home with an elegant and modern design that will blend harmoniously with any kitchen interior.
Spacious Inside
Store more food and organize neatly with a very wide and spacious interior.
Harmoniously elegant and premium design
Harmonious Design
Enhance your home with an elegant and modern design that will blend harmoniously with any kitchen interior. It has a stylish vertical recessed handle, ice blue LED display and a choice of premium colors. So it will subtly complement existing furniture and fittings.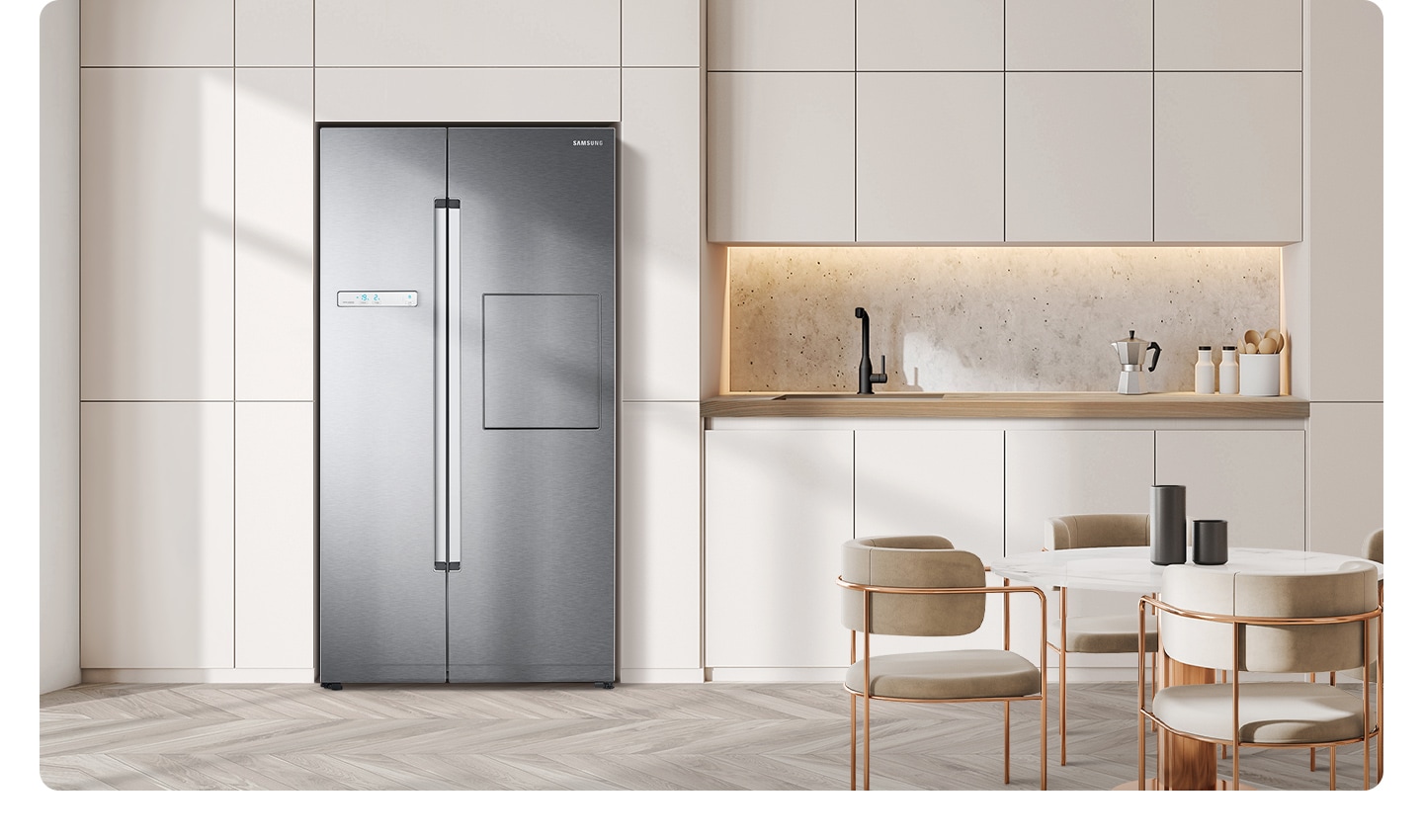 Neatly store and easily find more food
Spacious Inside
Store more food more neatly. It has the largest capacity compared to conventional Side by Side models. So there's plenty of room to keep everything tidy and efficiently organized. And it's much easier to put in, find and take out items, especially with the Big Guard and Beverage Station.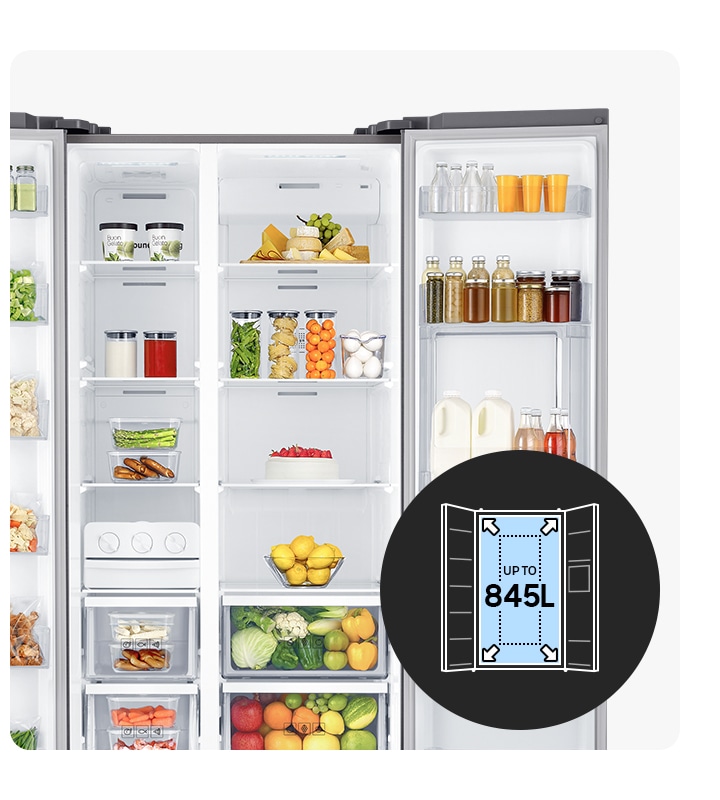 Works longer using 50% less energy*
Digital Inverter Technology
Enjoy greater energy efficiency, less noise and a long-lasting performance. The Digital Inverter Compressor automatically adjusts its speed in response to cooling demand. So it's quieter, uses up to 50% less power* and is certified to work for 21 years**, backed up by a 10 year warranty***.
* Based on internal testing in accordance with the ISO 15502 standard.** Awarded a 21 year durability certification by the Association for Electrical, Electronic & Information Technologies in Germany (Verband Deutscher Elektrotechniker – VDE). Actual lifespan may vary depending on the usage circumstances.*** 10 year warranty is limited to the compressor only.
Smart control for optimal performance
7 Smart Sensors
Enjoy a continually optimized cooling performance. 7 Smart Sensors help to maintain the optimal temperature and humidity using the minimal amount of energy. They monitor the doors, humidity, temperature and evaporator, so the refrigerator's performance can be adjusted automatically.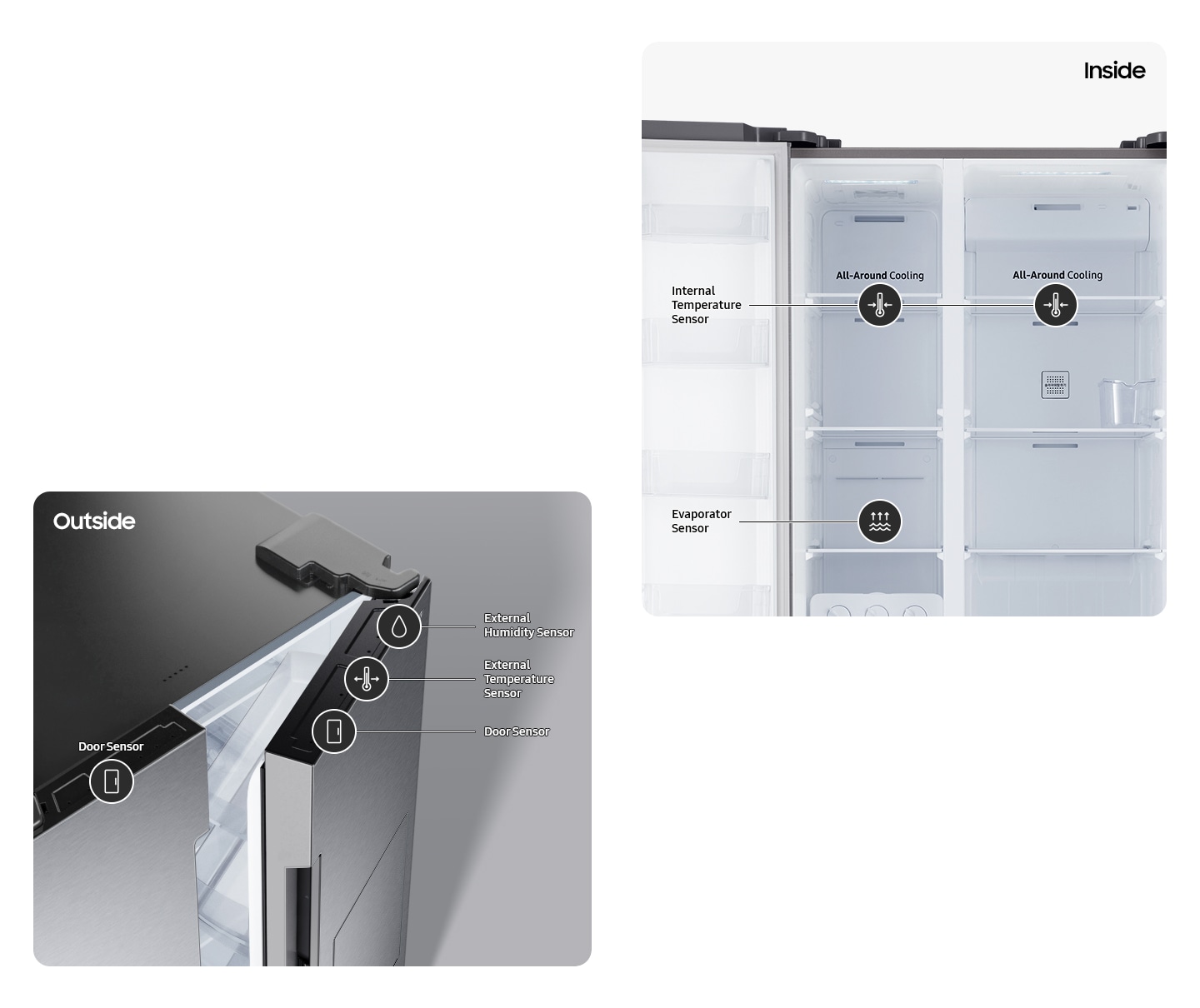 Preserves food freshness for longer
All-Around Cooling
Make sure that all of your food is properly cooled. All-Around Cooling cools each compartment evenly from corner to corner. It continually checks the temperature and circulates cool air through strategically placed vents. So food is kept at the optimum temperature and stays fresher for longer.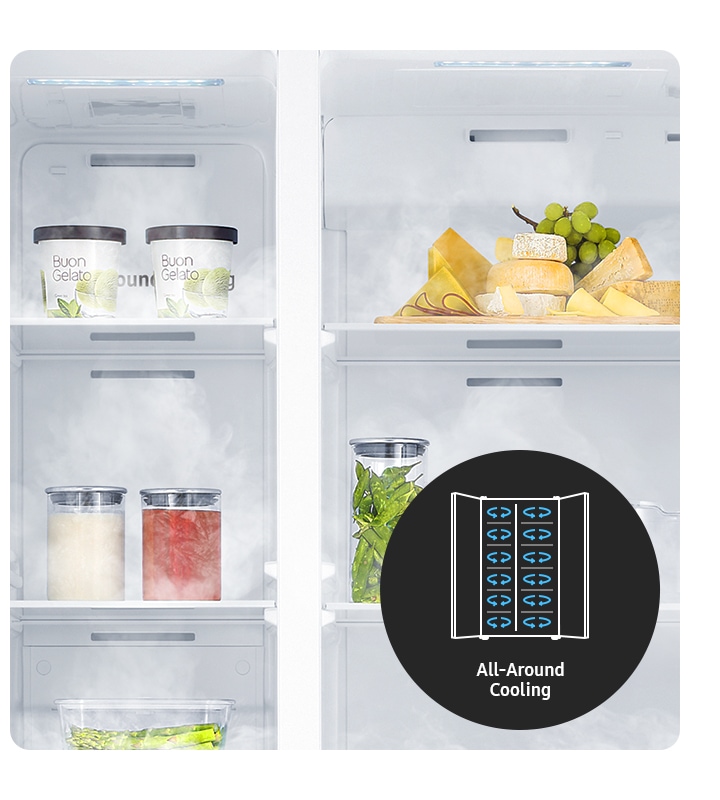 Optimal humidity for lasting freshness
MoistFresh Zone
Preserve the freshness and flavor of fruit and vegetables for longer. The MoistFresh Zone is a smart drawer that creates the optimal environment for storing perishable food. A tight seal prevents moisture from escaping if the humidity is low, while a vent releases moisture if it is too high.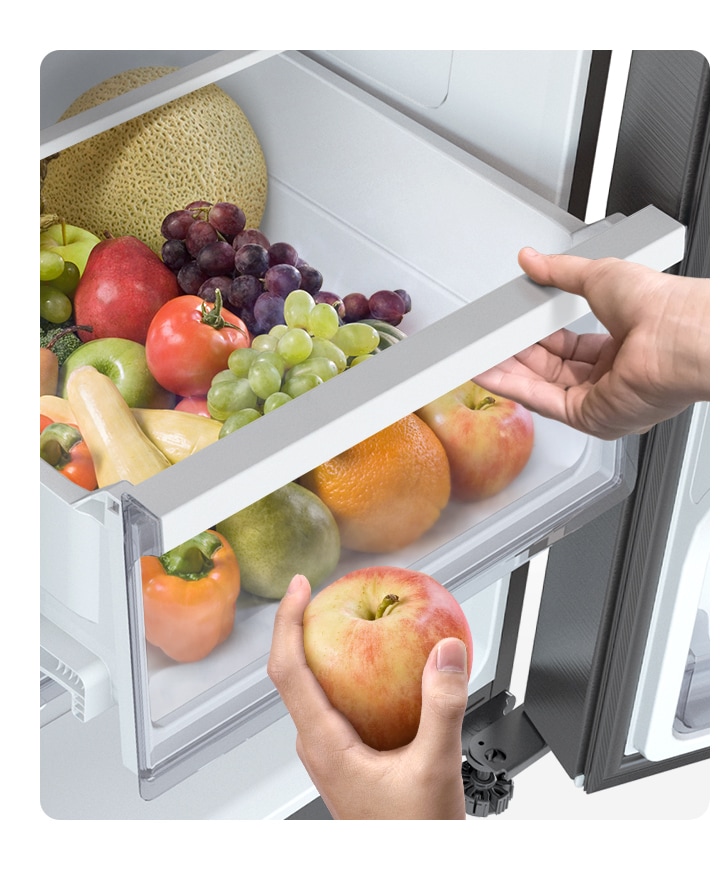 See in every corner with brighter light
LED Lighting
Find ingredients more easily, and save space and money with LED lighting. It's slimmer, brighter and more energy efficient than conventional lighting. It brilliantly illuminates every corner with a softer, more comfortable light, while creating more storage space and reducing electricity bills.
Specifications
Net Case Height with Hinge(mm)

1779 mm
Net Depth with Door Handle(mm)

883 mm
Capacity
Gross for Freezer(Liter)

333 ℓ
Gross for Fridge(Liter)

512 ℓ
Made In China
Mahajan Electronics
89-90 Raja Garden
New Delhi-110015
Payment & Security
Your payment information is processed securely. We do not store credit card details nor have access to your credit card information.