The VitaFresh system offers the ideal storage environment for all your fresh food thanks to climate and temperature control. Fish and meat stays fresh for longer at a temperature near 0°C. Fruit and vegetables benefit from an optimized climate. More food to enjoy, less food wasted.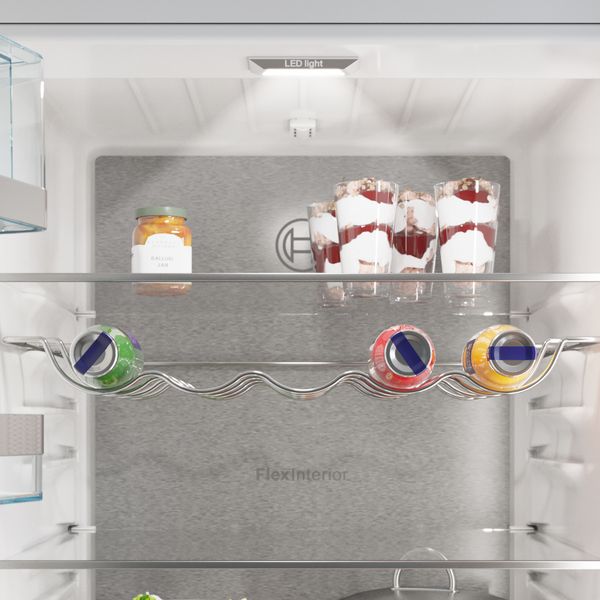 LED light: keeps the contents of your fridge in the spotlight.
LED lights bring a completely new lighting concept to fridges, guaranteeing even, glare-free interior illumination. LED lights use less electricity than conventional fridge lights and last an (appliance) lifetime.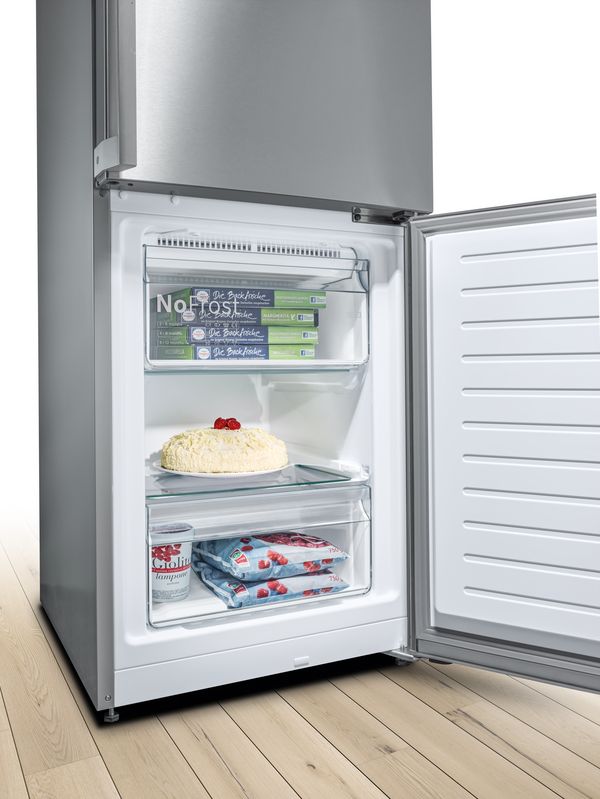 Full flexibility in the freezer area.
You can remove all the safety glass shelves in the freezer area really easily to create more space - to store a multi-level cake, for example, or a whole turkey. Large foods such as a family-sized pizza can be stacked on the glass surfaces without any problem.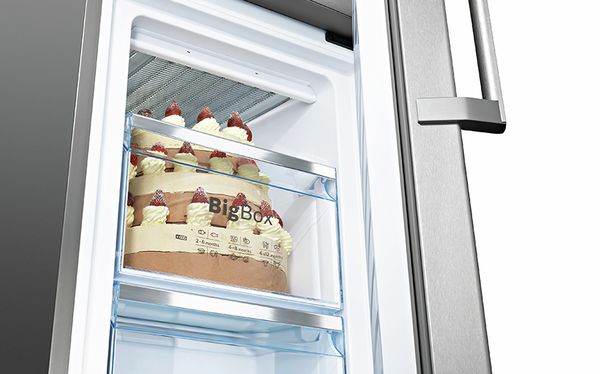 Lots of space for XXL frozen goods with the BigBox frozen food drawer.
An extra-deep frozen food drawer for practical stacking of frozen foods container or large frozen items like pizzas. No matter whether you have to cater for a child's birthday or freeze a wedding cake – in the BigBox you will find enough space for large frozen goods.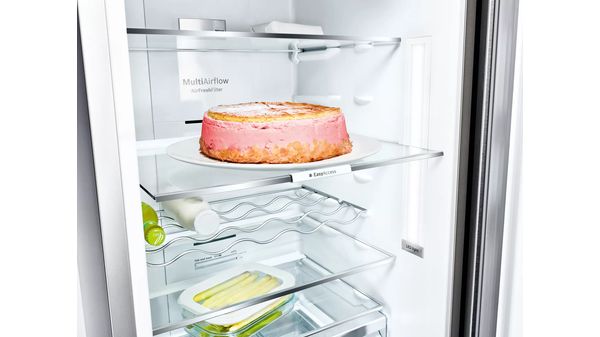 EasyAccess Shelf: Put in and remove items as quick as a flash.
The safety glass shelves can be extended up to 12 cm, making it particularly easy to place in and remove items. At the same time, you have an excellent overview of the contents – even the items at the very back are not forgotten.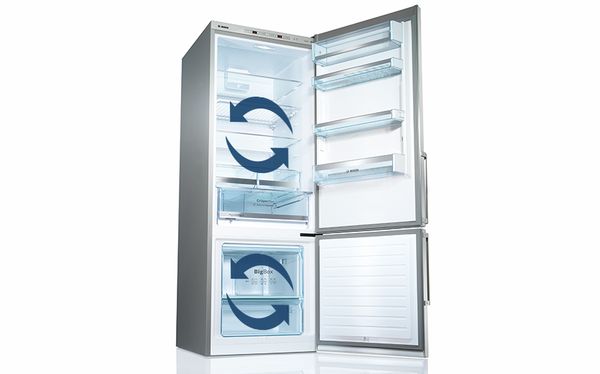 Two separate cooling circuits are more convenient and save energy.
What's kept in the freezer should stay in the freezer.Exactly why, there are two separate cooling circuits for the fridge and freezer, so there is no odour mixing and the temperature can be controlled independently, keeping the freshness of the food intact and the smell of the food in place.
For totally cool drinks: The Ice-Twister.
Now you can compete with any beach bar. With fresh ice cubes from the practical removable IceTwister, your cold drinks will taste even better. Fills 20 ice cubes per fill. It's quick and easy, and you won't spill water when you're filling it.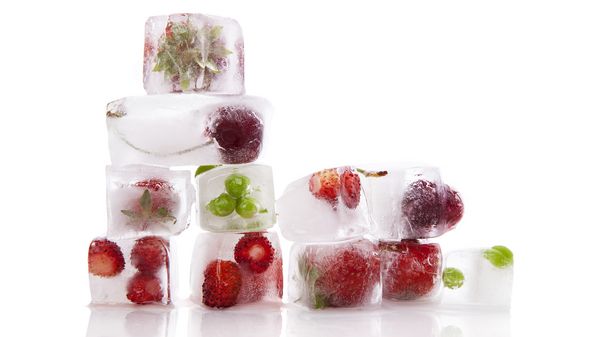 Experience faster cooling at your fingertip. At the press of a button, you can reduce the fridge temperature. So from now on, you won't have to wait for your favourite drink to cool.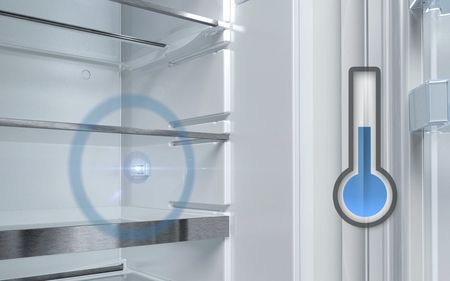 FreshSense sensor: perfect storage climate.
FreshSense sensor: perfect storage climate.
Thanks to the optimum storage conditions, your food preserves an ideal consistency; ice cream, for instance, is neither too soft nor too hard. A constant temperature in the fridge interior is a decisive factor in achieving more freshness and flavours. FreshSense sensors constantly monitor and control the ambient, fridge and freezer temperature. A constant temperature inside the fridge, independent of the outer temperature, is the result.
General
Width of the appliance - 700 mm
Height of the appliance - 1,930 mm
Main colour of product - Black
Refrigerator Net capacity - NEW (2010/30/EC) - 400 l
Freezer Net capacity - NEW (2010/30/EC) - 108 l
Energy efficiency rating - A+++
Noise level - 42 dB(A) re 1 pW
Door hinge - Right reversible
Material ofthe shelves - Safety glass
Shelves for Bottles - Yes
Length electrical supply cord - 240.0 cm
Included accessories - 3 x egg tray, 1 x ice cube tray with lid, 1 x bottle holder in door tray
Connectivity
Home Connect Features - iService Remote, Remote Monitoring and Control
Connectivity type - Bluetooth, Wi-Fi
Design
Main colour of product - Black
Number of compressors - 1
Built-in / Free-standing - Freestanding
Type of control - Electronic
Number of independent cooling systems - 2
Door hinge - Right reversible
Door panel options - Not possible
Frost free system - Fridge
Door opened indicator freezer - No
Installation typology - Freestanding
Material ofthe shelves - Safety glass
Size and weight
Depth of the product - 800 mm
Height of the appliance - 1,930 mm
Width of the appliance - 700 mm
Cooling
Defrost process fridge section - Automatic
Number of Adjustable Shelves in fridge compartment - 3
Number of shelves in fridge compartment - 4
Freezing
Defrost process freezer section - Automatic
Freezing drawers (Stck) - 2
Number of freezing flaps (Stck) - 0
Automatic motor-driven ice-maker - No
Temperature adjustable freezer - Yes
Thaw water drainage system - No
Thermometer freeze section  - Digital
Connection
Length electrical supply cord - 240.0 cm
Plug type - India plug (16 Ampere)
Comfort
Included accessories - 3 x egg tray, 1 x ice cube tray with lid, 1 x bottle holder in door tray
Shelves for Bottles - Yes
Type of control setting and signalling devices - Super setting for freezer, Super setting fridge, Temperature display fridge, Temperature for freezer, Warning function freezer sect., Warning signal door open, Warning signal for malfunction
Fast cooling switch - Yes
Fast freezing switch - No
Warning signal / malfunction -  visual and audible
Energy Stars (India) - 2