We know that you want the best for your family and you take pride in clean and fresh laundry, so that your family and loved ones will look good and feel confident. But some stains can be frustrating and takes time to remove. That's why we have invented the Stain Removal wash programme, which effectively remove 10 most common stains on your favourite clothing at each wash, so you can ensure spotlessly clean laundry for you and your loved ones.
Power Off Memory: This feature ensures the smooth running of the wash program by automatically resuming operations when power is restored after a power cut. In other words, if there is a power outage during your washing cycle, the washing machine will remember where it left off and continue the program from that point once power is back.

Stain Removal: This feature is designed to effectively remove most common stains from your laundry. It may use specific wash cycles, additional agitation, or extended soaking to target and eliminate stains for spotlessly clean clothing.

Reload Function: The reload function allows you to add forgotten items to the washing machine even after the wash cycle has started. This is helpful if you discover a piece of clothing or other items that you want to include in the current laundry load.

PowerWave Wash System: The PowerWave Wash System is a combination of innovative design elements. It includes a pulsator, a dynamic water flow system, and intelligent drum movement. These components work together to provide a perfect wash result. The pulsator creates the agitation, the water flow ensures thorough coverage, and the drum movement helps in cleaning the laundry effectively.

Delay Start: This feature gives you the option to schedule the wash cycle to start at a later time, typically within 24 hours. This is convenient if you want to have your laundry done at a specific time, such as when you'll be home to unload the machine or during off-peak electricity hours for energy savings.
General
Dimensions of the product - 1015 x 542 x 600 mm
Installation typology - Freestanding
Loading capacity - 8.0 kg
Max. spin speed - 680 rpm
Wash optimization - Drum clean, Mixed Fabrics, ON, Program, Short programme / quick, Soaking 15-30-60-90 min, Soil level, Start/Reload, Time delay
Digital countdown indicator - Yes
Start delay options - continous
Noise level washing - 65 dB(A) re 1 pW
Noise level spinning - 75 dB(A) re 1 pW
Water protection system - Multiple water protection
Hot & cold water intake - No
Drum material  - Stainless steel
Connection
Hot & cold water intake - No
Plug type - India plug (6 Ampere)
Size and weight
Depth with open door 90 degree - 552 mm
Dimensions of the product - 1015 x 542 x 600 mm
Size and weight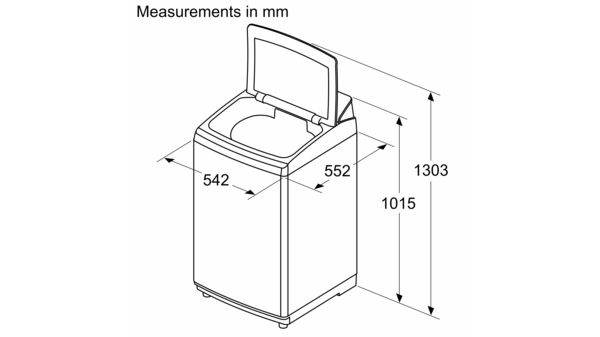 Comfort
Degree of dirtiness recognition - No
Digital countdown indicator - Yes
Drying progress indicator - LED-display
Noise level spinning - 75 dB(A) re 1 pW
Noise level washing - 65 dB(A) re 1 pW
Start delay options - continous
Self adjusting water level to load - No
Programmes
Electronic After-sales Service - Yes
Wash optimization - Drum clean, Mixed Fabrics, ON, Program, Short programme / quick, Soaking 15-30-60-90 min, Soil level, Start/Reload, Time delay
Spinning
Max. spin speed - 680 rpm
Safety
Water protection system - Multiple water protection