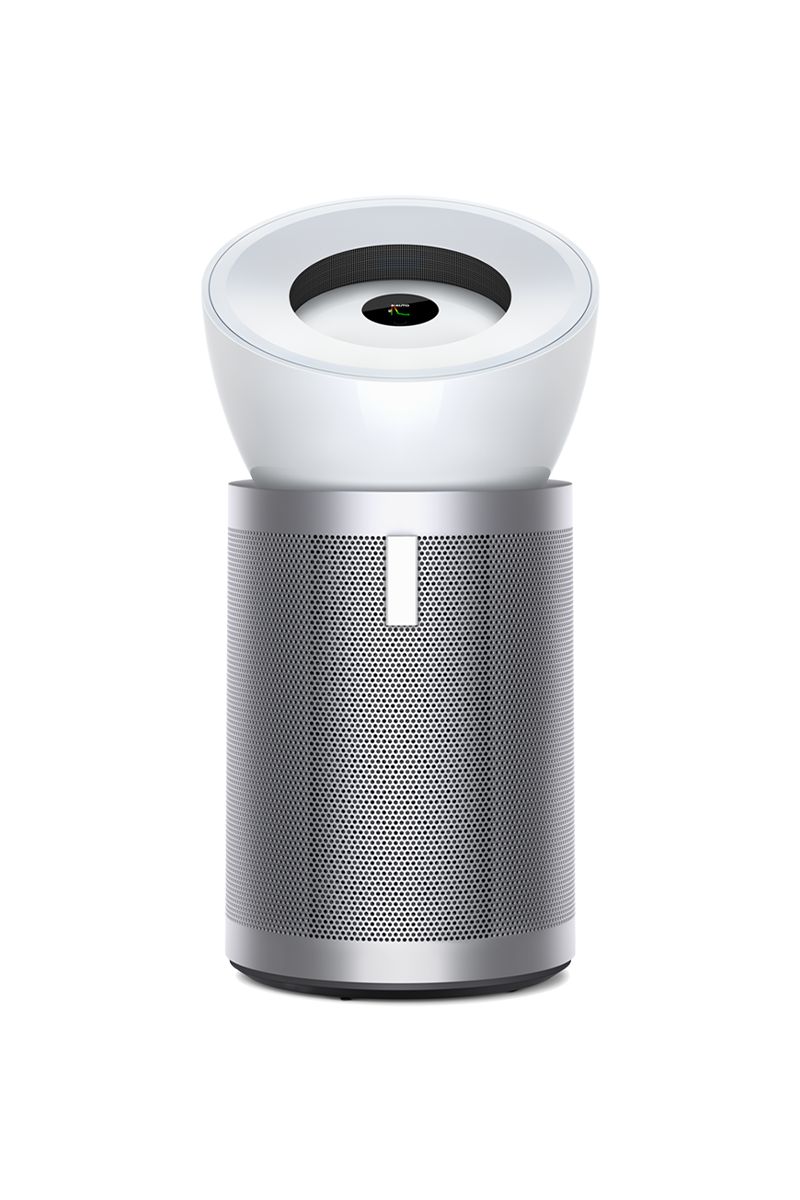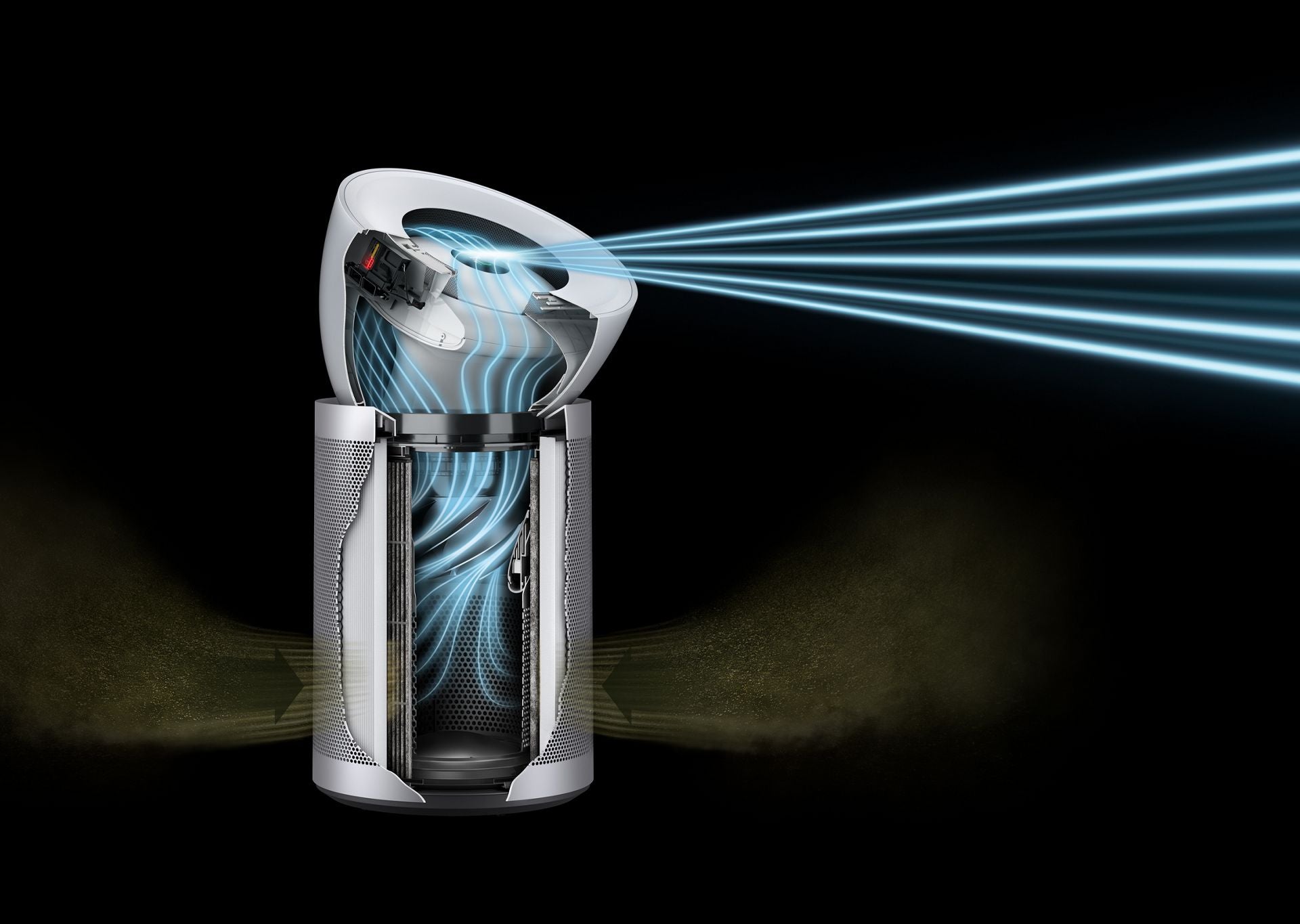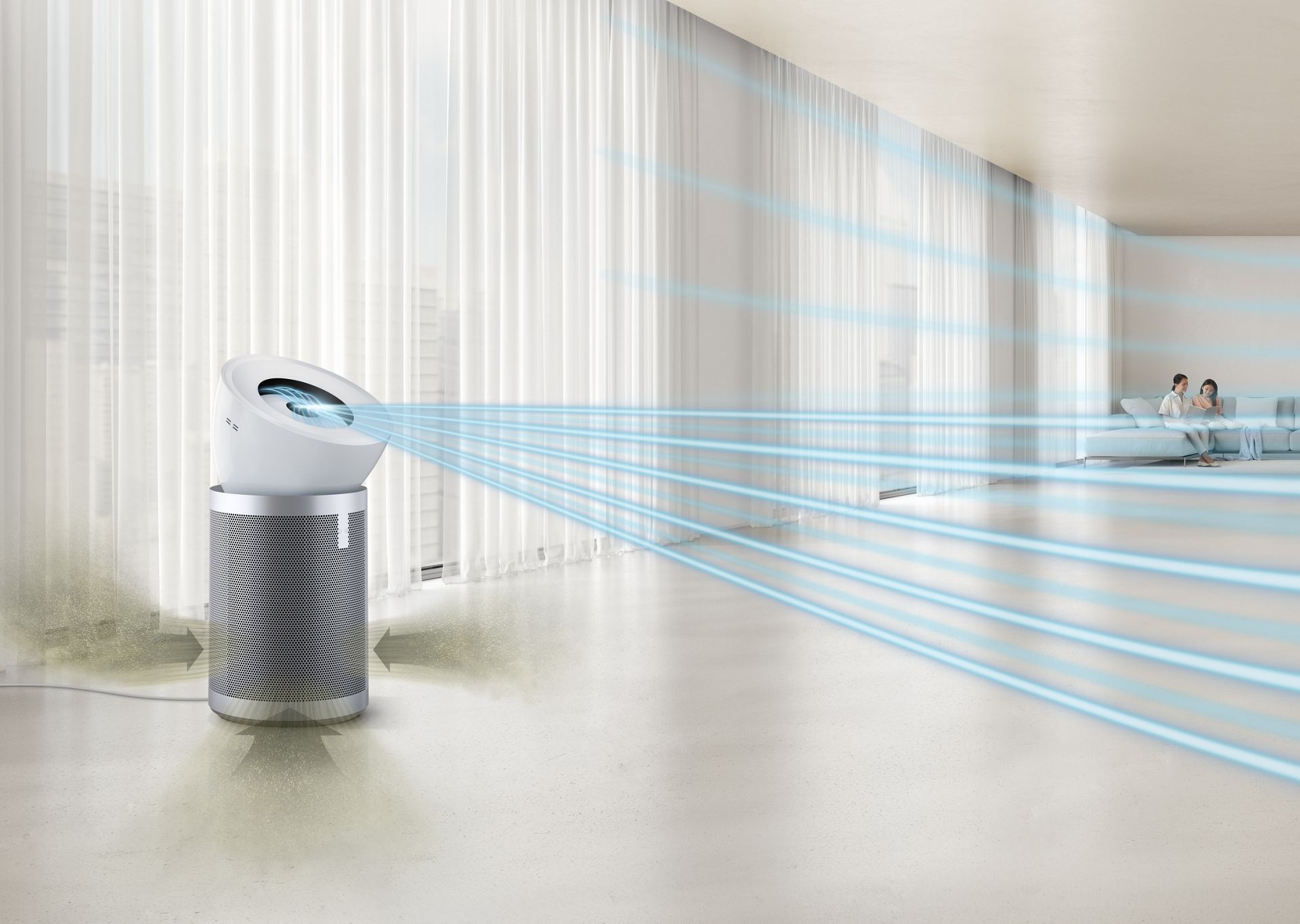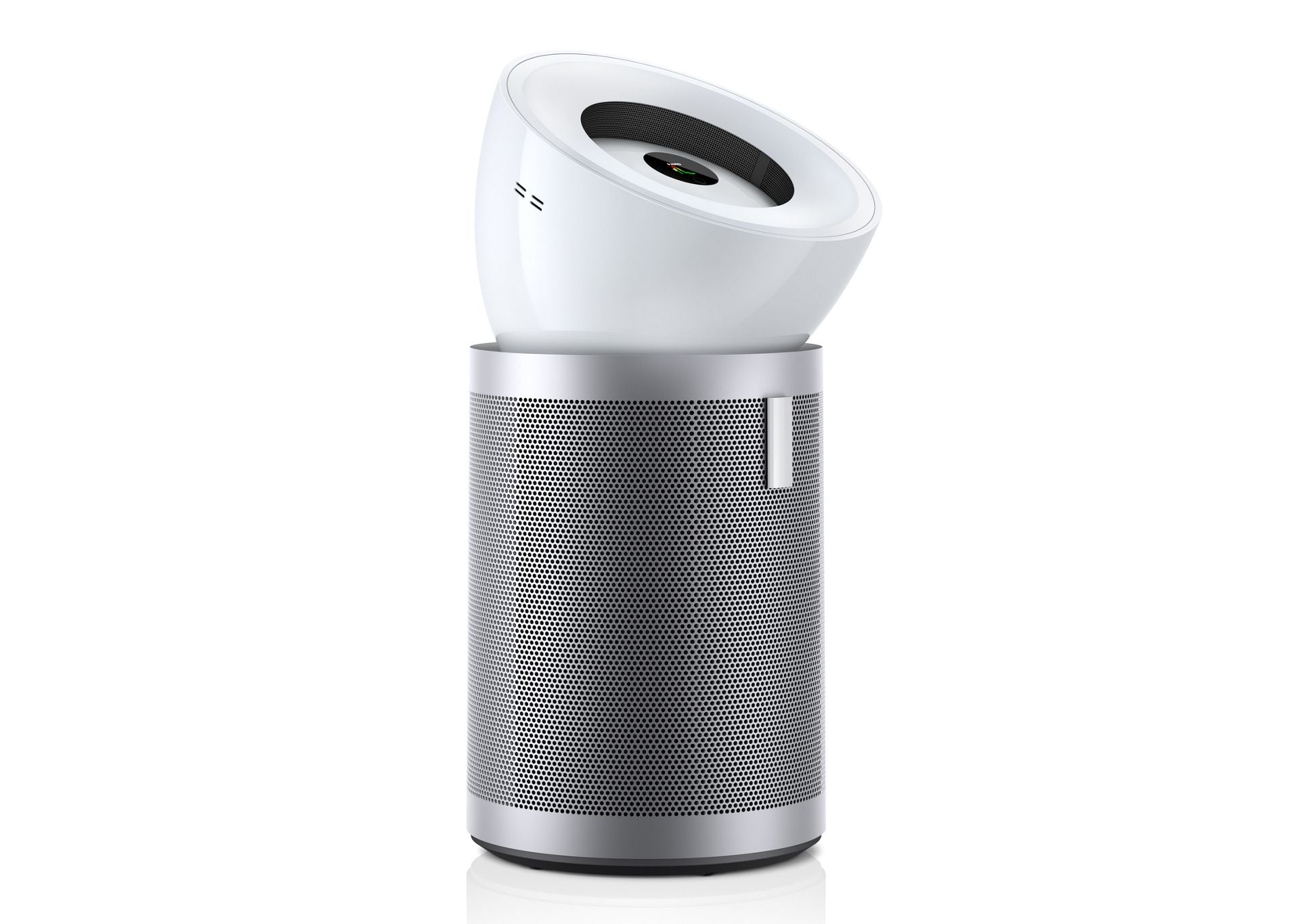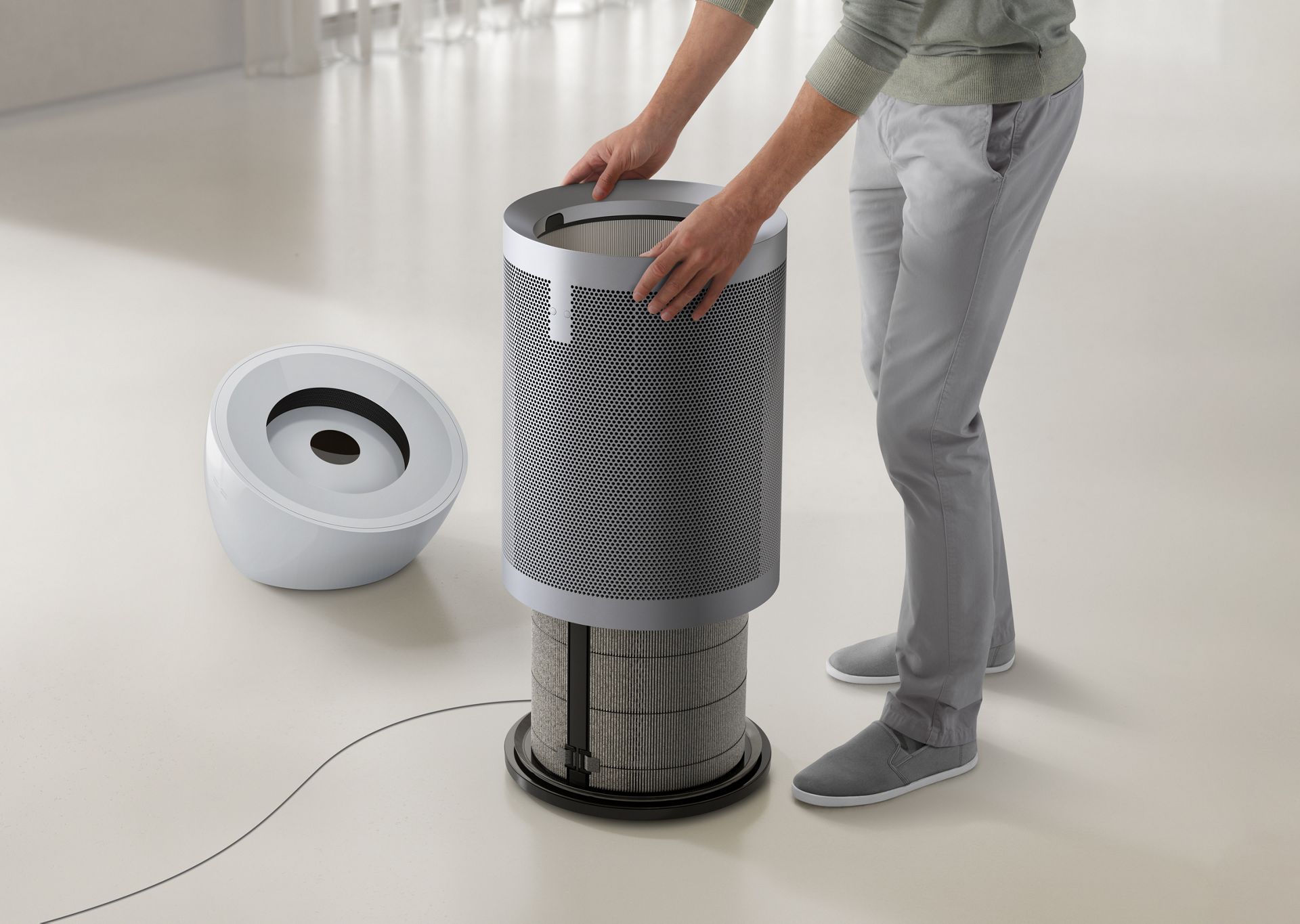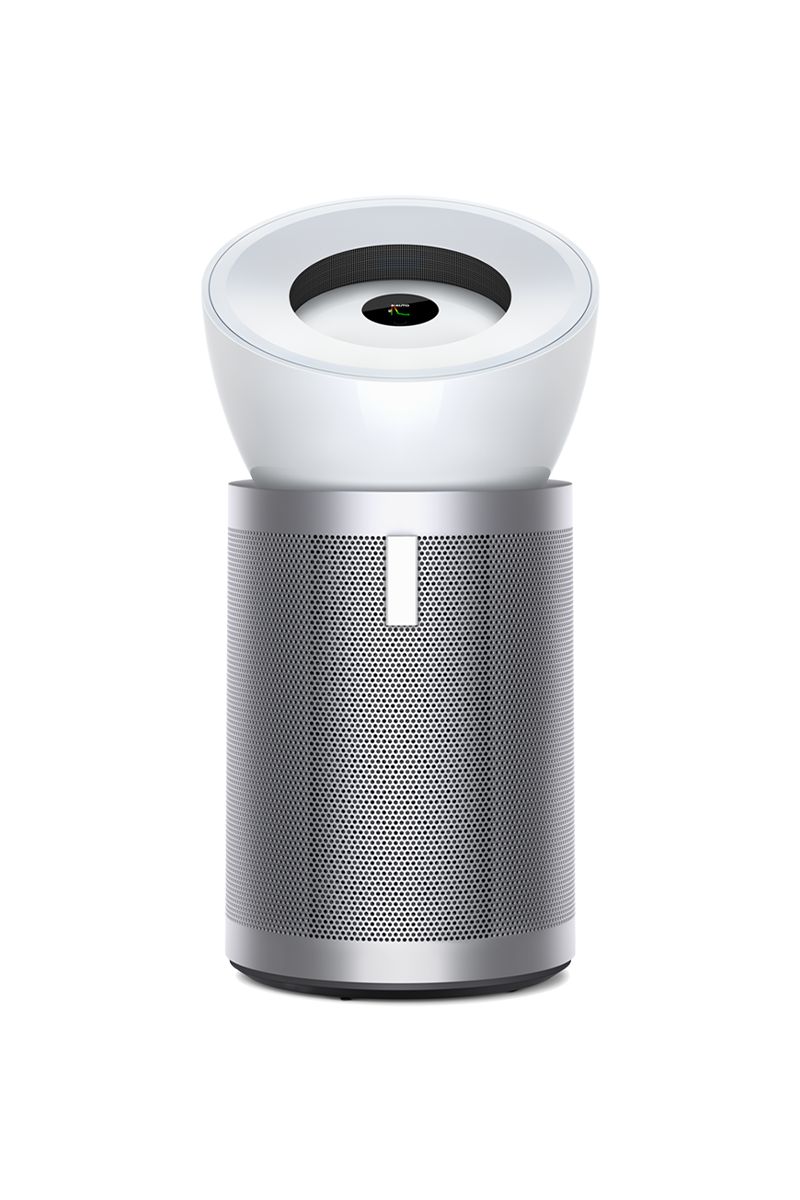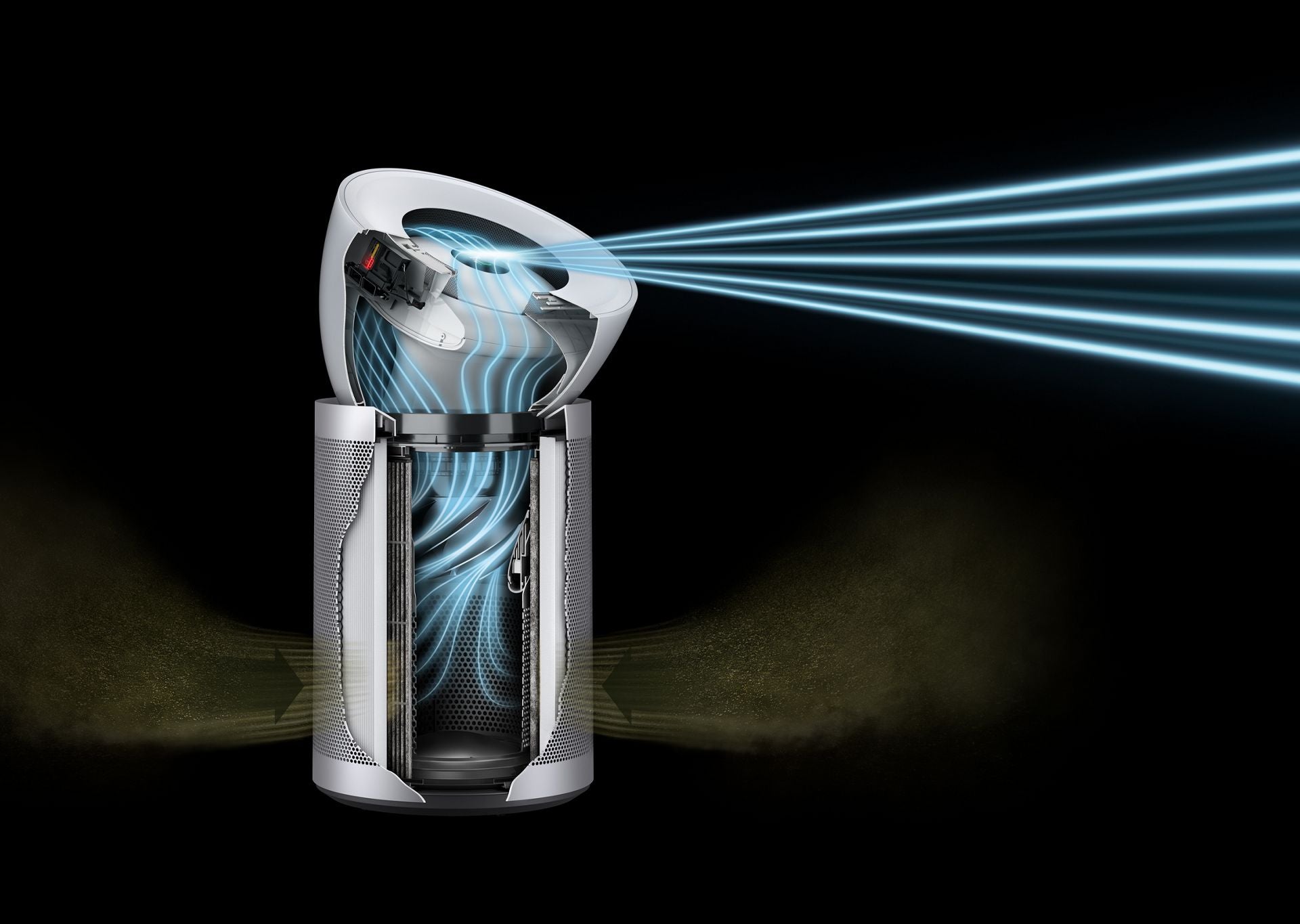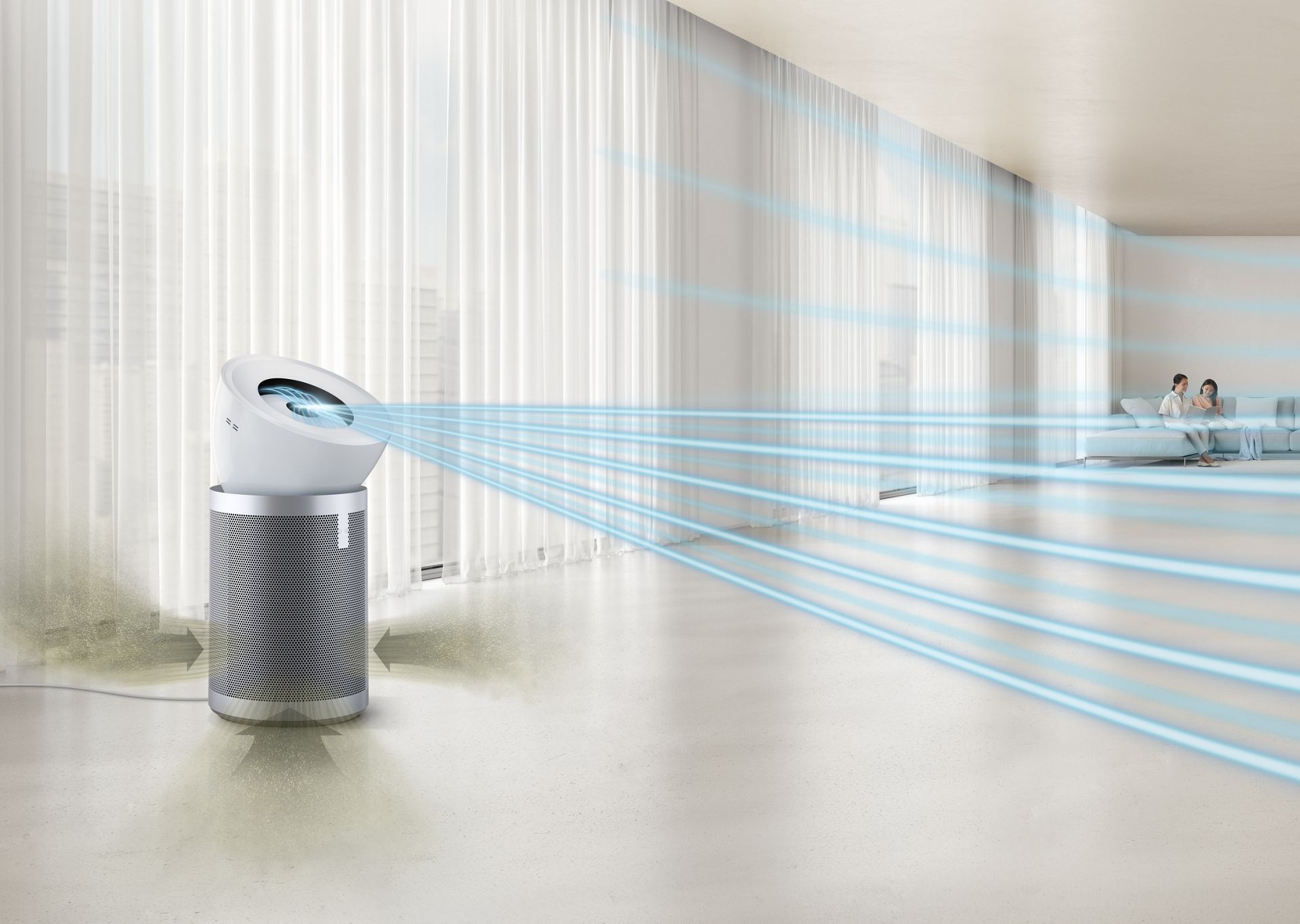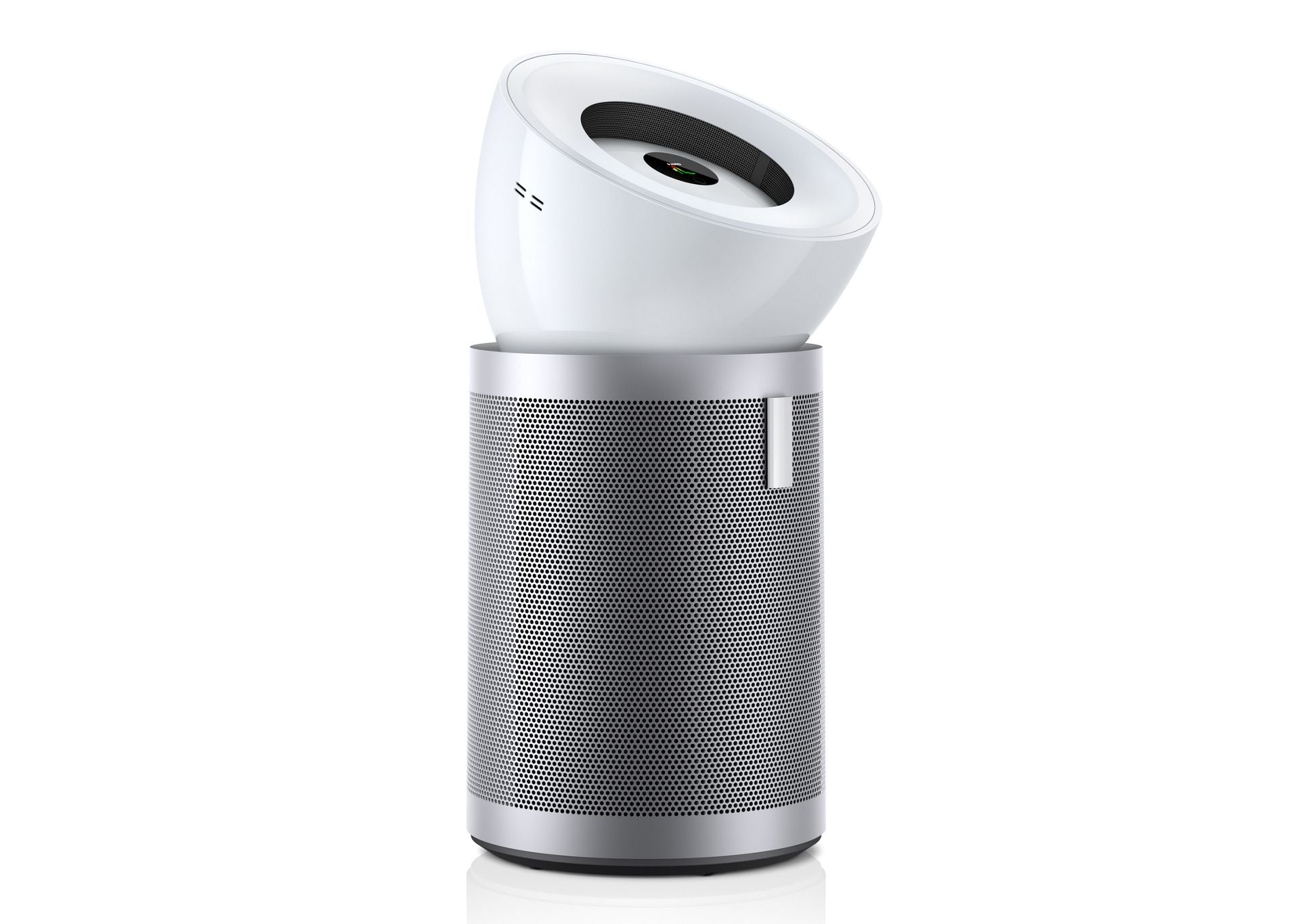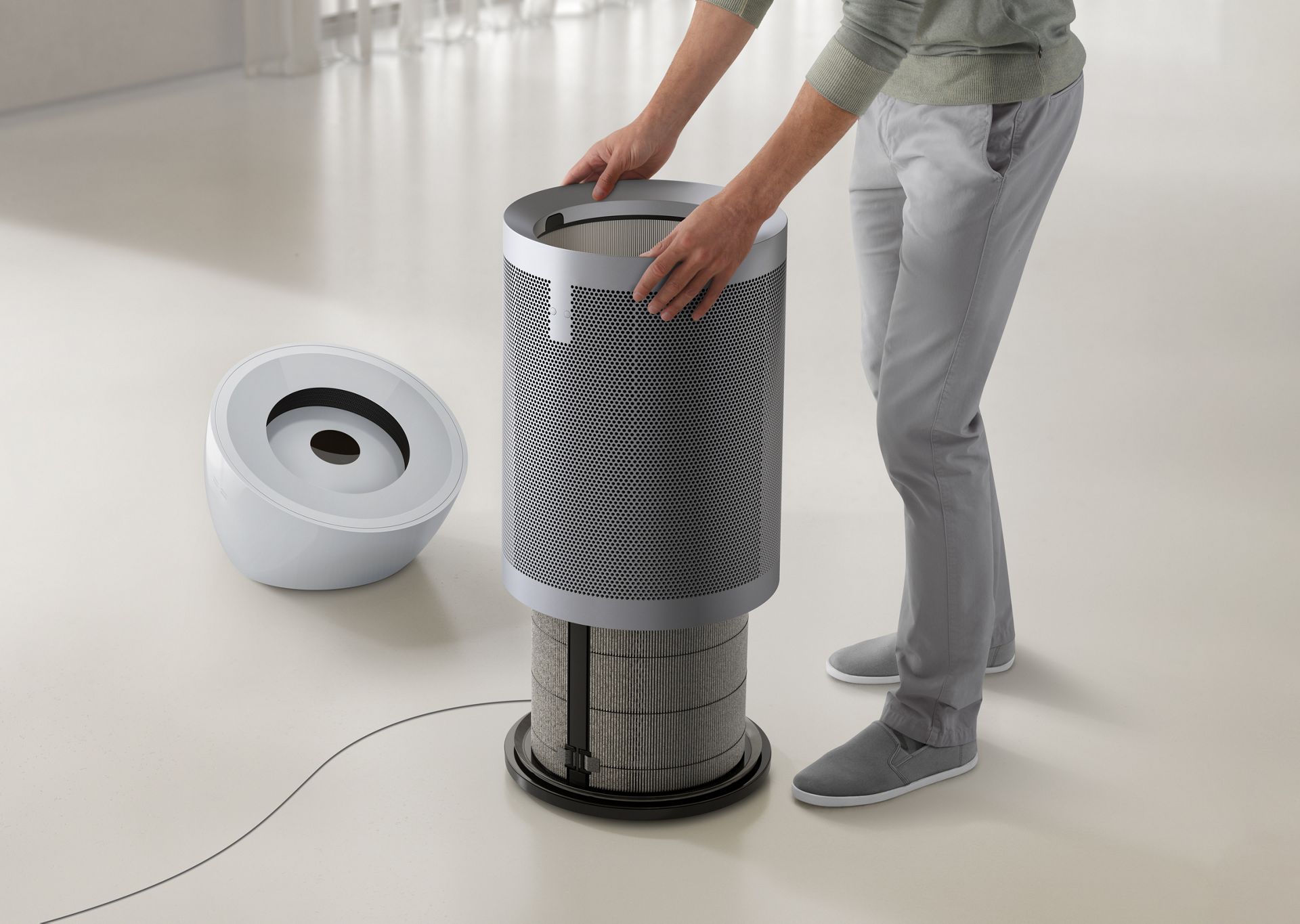 Dyson Air Purifier Big+Quiet BP02 White/Satin Silver 2023 Area Coverage 1076 sq feet
24 people are viewing this right now
Regular price
Rs. 65,490.00
Sale price
Rs. 65,490.00
Regular price
Rs. 68,900.00
Tax included.
Free Shipping- 1 Day Delivery * Conditions Apply
Product description
Shipping & Return
 All Deliveries made within 24 Hours (Business Hours) post receipt of order. Except Fridays (Weekly Off)
Get GST invoice and save upto 18 % on business purchases. T&C Apply.
Here's a breakdown of the key features you mentioned:
Coverage Area: This air purifier is designed to clean and purify the air in rooms or spaces of up to 1,076 square feet. This indicates its capacity to handle larger areas and provide clean air throughout.

HEPA Filtration: The air purifier utilizes a HEPA (High-Efficiency Particulate Air) filter, which is known for its ability to capture particles as small as 0.1 microns. HEPA filters are highly effective at trapping allergens and pollutants, such as dust, pollen, pet dander, and even some viruses.

Gas and Odor Removal: In addition to capturing particulate matter, the air purifier is also designed to remove gases and odors from the air. This is typically achieved using an activated carbon filter or similar technology. It can help eliminate smells and harmful gases, such as volatile organic compounds (VOCs) and kitchen odors.

Quiet Operation: The air purifier operates quietly, which is an important feature for many users, especially in bedrooms or quiet living spaces. Quiet operation ensures minimal disturbance while the air purifier is running.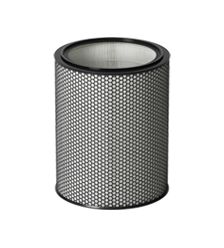 Features



Long-range projection and circulation

Our latest purifier uses cone aerodynamics to deliver powerful, long-range projection – circulating air and driving even distant pollutants back through sealed filters. For whole-room purification, even in large spaces.1




Quiet, even at full power

An acoustically engineered motor bucket records just 56dBA of sound power at full-speed. With no compromise on performance.

* Product colour may vary




Adjust your airflow

Adjust the angle of airflow at 0°, 25° or 50°, or mimic the feeling of refreshing air indoors using Breeze mode.




Control your air quality wherever you are

The MyDyson™ app gives you autonomy over your air quality. View which particles have been captured, set schedules, browse reports, and more.8




Auto mode

With the Auto mode feature, your purifier can sense, capture and report on pollutants in your home in real-time.




Hygienic filter replacement

A hygienic replacement mechanism allows you to dispose of the HEPA filter in one click.




Discreet wheels

Easily manoeuvre your machine across a room. Designed for hard surfaces, the wheels are completely hidden from view.




Smart home purification

Connect and then control your air quality, hands-free, with compatible smart home voice services.13

A suite of intelligent sensors detects pollutants across a whole room. Our unique algorithm cross-checks data every second, analysing your air at a molecular level – automatically reacting to purify and display live results on the LCD screen and in the MyDyson™ app.

The HEPA H13 grade filter captures 99.95% of ultrafine particles as small as 0.1 microns2, while an activated carbon filter removes odours and gases.3

Two phases of purification sit within our fully-sealed machine to trap pollutants inside, removing them from the air you breathe. Giving you reassurance that what goes inside, stays inside.6

 

The purifier is designed to effectively purify a room of up to 100 square meters (100m²) in size. Computational Fluid Dynamics (CFD) modeling has been used to confirm its ability to do so, with the purifier placed in a corner of the room and running at maximum flow. The horizontal projection of clean air from the purifier reaches up to 10 meters to ensure thorough room mixing. Note that real-life performance may vary depending on specific conditions.

The purifier has been tested for its filtration efficiency at particles as small as 0.1 microns according to EN1822 and ISO29364 standards. This indicates its capability to filter out very fine particles.

It has been tested for its ability to capture specific gases, including acetic acid, acetaldehyde, ammonia (JEM 1467), formaldehyde, benzene (GB/T18801), and nitrogen dioxide (DTM-003282). The gas capture rates can vary depending on the specific gas and conditions.

The purifier's filtration system is compared to the standard carbon filter in the Dyson Purifier Big+Quiet Formaldehyde (BP03). This suggests that the purifier may have a more advanced or efficient filtration system.

Third-party testing has been conducted based on GB/T 18801-2022 standards for formaldehyde cumulative clean mass testing. The results may vary in practical, real-world conditions.

The purifier has been tested for particle filtration efficiency using DEHS oil particles specified in EN1822 within a specified chamber according to ASTM F3150. It achieved an efficiency above 99.95% in Max Mode, indicating its effectiveness at removing particles.

The purifier's functionality can be controlled via a mobile app. It requires a Wi-Fi connection and an app-enabled device. Standard data and messaging rates may apply. The app is compatible with iOS version 10 or above and Android version 5 or above. Your mobile device must support Bluetooth 4.0.

The purifier has CO2 level monitoring, and it provides a ventilation alert when CO2 levels in the room reach 1500 parts per million (ppm) or above. This feature is based on scientific literature.

The purifier has an "Auto mode," which likely means it can automatically adjust its operation based on the air quality in the room.

The MyDyson app, mentioned in point 8, is compatible with various smart home devices and voice services. Users can refer to the app for a list of compatible devices and services.
Made in india

Mahajan Electronics
89-90 Raja Garden
New Delhi-110015
Free 24 Hours Delivery is applicable for NCR Region. Area includes Delhi, Gurugram, Faridabad, Ghaziabad, Noida.
 Mahajanelectronics.com   makes every effort to service the orders placed with them, as per the specification and delivery timelines mentioned against each product. As a policy, we request you to kindly check the product and the accessories while accepting the delivery. In case of any discrepancies, kindly bring it to our notice before accepting delivery by calling us on +9710000251  or email us on  manas@mahajanelectronics.com  . After acceptance of delivery of the product, Mahajanelectronics.com    cancellation free of charge on Cash on Delivery orders. In case of prepaid order, a charge of 3% will be applied & refund shall be made within 24-48 hours.
Once delivery is made and product is kept packed unused & customer wants to return, we shall accept return within 24hrs of receipt of order in this case Cancellation charge of 3% will be applicable and we shall initiate refund post receipt of product within 24-48 hours.
Please Note In this case product should not have been unboxed. Moreover, it shall be at our discretion that we accept or not.
 After sales service is provided by the authorized service centers of the respective manufacturing companies. For product service requirement, kindly contact us on the above-mentioned details for the same.
For any product/service available on sale on Mahajanelectronics.com , the company does not assume any liability.