Product description
Shipping & Return
All Deliveries made within 24 Hours (Business Hours) post receipt of order. Except Fridays (Weekly Off)
Exclusive Offer @ Mahajan Electronics ( Just Here)
Get GST invoice and save upto 18 % on business purchases. T&C Apply.
1 Year on product and 10 year only compressor warranty
Up to 10% Cash Back Max- Rs 3000 with in 90 days on selected Bank T&C. 
Key Features
Vacation Energy Mode: This feature allows you to conserve energy while you're away on vacation by minimizing power consumption.
Super-Fast Cooling: This feature ensures that the refrigerator cools your food and beverages quickly, helping to maintain their freshness.
Toughened Glass Shelves: These shelves are made of durable toughened glass material, which can withstand heavy items and are easy to clean.
Fungus-Free Door: The refrigerator's door is designed in a way that prevents the growth of fungus or mold, ensuring hygiene and cleanliness.
Twist Ice-Tray: This feature allows you to easily dispense ice cubes by twisting a tray, eliminating the need for separate ice trays or ice makers.
LED-Lit Interiors: The refrigerator's interior is illuminated with LED lights, providing clear visibility of the contents and adding a modern touch.
Temperature Control LED Touch Panel: This feature enables you to control and adjust the refrigerator's temperature settings conveniently using an LED touch panel.
Power Performance:
Hush Operation: The refrigerator operates quietly, minimizing noise disturbance in your living space.
Eco Gas: This refers to the type of refrigerant used in the refrigerator, which is environment-friendly and has a reduced impact on the ozone layer.
Stabilizer-Free Operation: The refrigerator is designed to operate efficiently without the need for an external voltage stabilizer, protecting it from voltage fluctuations.
TechVanced Compressor: The refrigerator is equipped with a technologically advanced compressor, which enhances its performance and energy efficiency.
Kelvinator is a well-known brand that offers a range of appliances, including refrigerators. Their side-by-side refrigerators are designed to provide both style and functionality. Here are some key features and benefits you can expect:
Classy Glass-Finish: Kelvinator's side-by-side refrigerators come with a glass-finish, which adds a touch of elegance to your kitchen. This sleek design can enhance the overall aesthetic appeal of your space.

Impressive Performance: These refrigerators are built to deliver reliable and efficient performance. They often come with advanced cooling technologies, such as multi-airflow systems, to ensure consistent cooling throughout the refrigerator compartments.

Energy Efficiency: Kelvinator strives to manufacture energy-efficient appliances. Side-by-side refrigerators from Kelvinator are designed to minimize power consumption, helping you save on energy bills while reducing your environmental footprint.

Easy to Use: Kelvinator aims to provide user-friendly appliances, and their side-by-side refrigerators are no exception. They typically feature intuitive control panels and convenient storage options, making it easier for you to organize and access your food items.

Durability: Kelvinator emphasizes the durability of their products. Side-by-side refrigerators are built to withstand daily use and are constructed with quality materials to ensure long-lasting performance.
3D Airflow
Fresh air for fresh food
Even distribution of air is necessary for food items to remain fresh in a fridge. The Kelvinator side-by-side refrigerator's 3D Air Flow feature technology cools every corner and enhances freshness, thanks to air vents on all sides. Look forward to enjoying your meats, fruits and vegetables with their nutrients intact!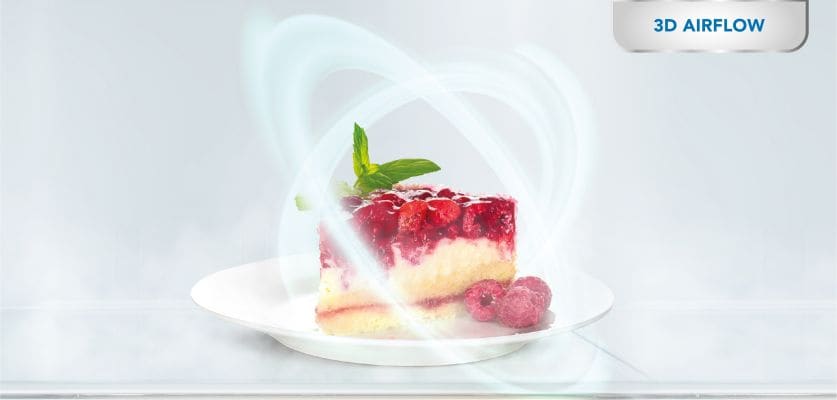 * This Kelvinator KRS B600BKG Refrigerator image is for illustration purpose only. Actual image may vary.

Superfast Cooling
Quick cooling when you need it the most
Have surprise guests over and no ice in the freezer? The Kelvinator side-by-side refrigerator is your friend in these instances. Its Super-fast Cooling' feature helps freeze things quickly. Never worry about melting ice cream or running out of ice cubes again!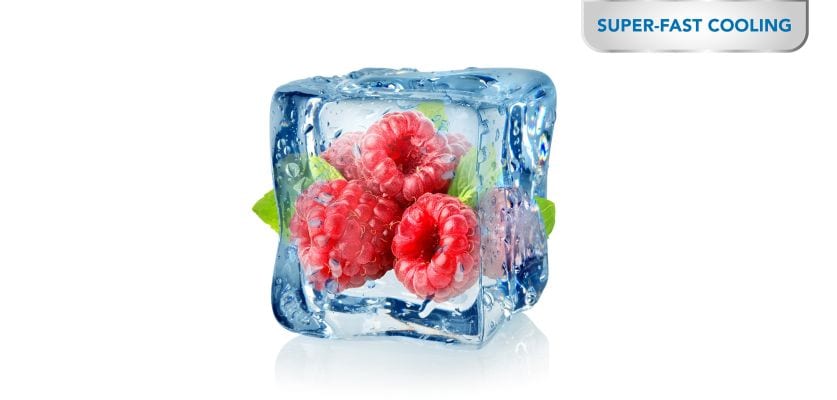 * This Kelvinator KRS B600BKG Refrigerator image is for illustration purpose only. Actual image may vary.
Vacation EnergyMode
Fridge that's never on vacation
Whether you're on a long or a short holiday, rest assured that your Kelvinator side-by-side fridge is never taking a break. Don't worry about emptying your fridge before catching that flight. The VacationEnergy mode preserves all your food items while you're away, while also saving energy.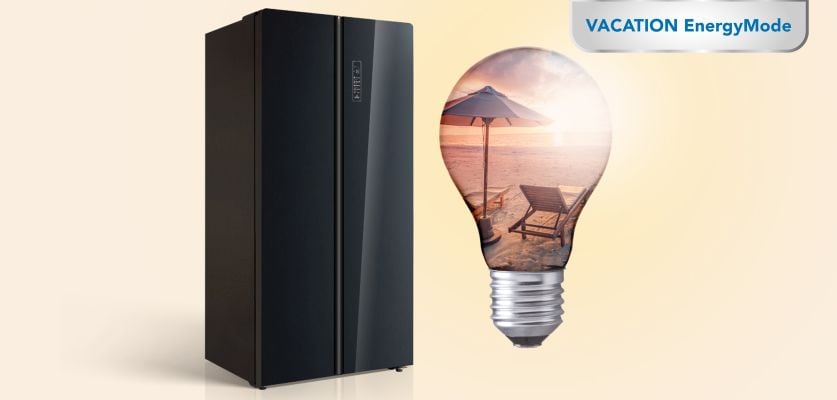 * This Kelvinator KRS B600BKG Refrigerator image is for illustration purpose only. Actual image may vary.
Max Storage
Store more deliciousness
The Kelvinator side-by-side refrigerator makes sure you never have to compromise on storage space. It has 175 litres of freezer space for frozen goodies and 335 litres for everything else! Store as many items as you like in the well-separated shelves; they'll remain fresh for longer, too.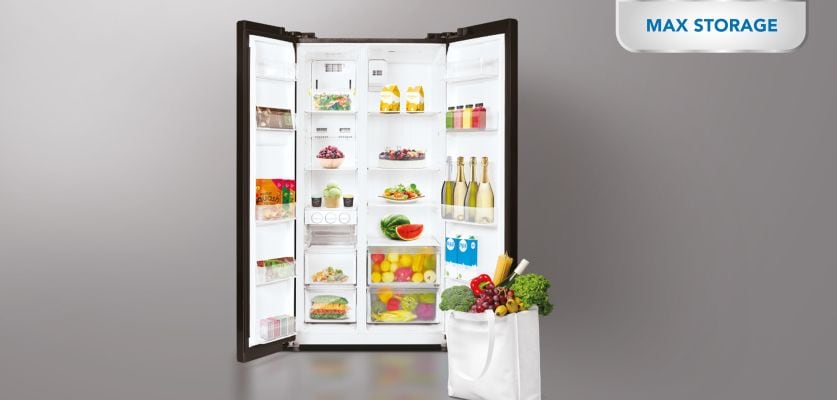 Digital Touch Panel
Control the temperature from the outside
If you bring home the Kelvinator side-by-side refrigerator, there are so many things you can do without even opening the fridge. The sleek and efficient 'Temperate Control LED Panel' on the door lets you choose the temperature setting of your choice, without disturbing the fridge's contents even for a minute.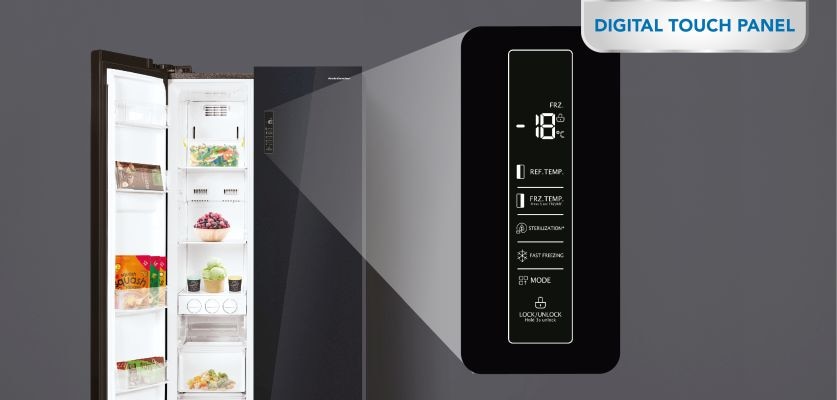 A new-age compressor for a new-age lifestyle
Kelvinator side-by-side refrigerator's TechVanced Inverter Compressor provides precise cooling through the entire refrigerator. It also consumes significantly less energy. Enjoy the modern lifestyle you deserve with a refrigerator that can keep up!
Toughened Glass Shelves
Special type of glass made to bear a good amount of load, thereby allowing you to keep slightly heavier items too.
Easy to Clean Gasket
Removable, easy to to clean door rubber strip that keeps your fridge hygienic.
Twist Ice Tray
The Kelvinator Fridge comes with a twist ice tray making it easy to dispense ice. Now just twist the tray and chill.
LED Lit Interior
The Kelvinator Fridge features LED lights to scan your fridge with ease. LEDs are also bill-friendly!
Hush Operation
Advanced inverter compressor in the refrigerator enables silent operation.
EcoGas
The use of R600a as a refrigerant gas ensures that it is not hazardous to you and the environment.
Stabilizer Free Operation
No need for external voltage stabiliser as the wide voltage range of the compressor protects it from electrical surges.
General Information
Total Capacity - 584 litres
Refrigerator Type - Frost Free
Refrigerator Style - Side-by-Side Refrigerator
Refrigerator Operations
Refrigerator Capacity - 349 litres
Refrigerator - Interior Lamp - Yes
Refrigerator Shelf Type - Toughened Glass
Vegetable & Fruit Drawer - Yes
Freezer Related
Freezer - Shelf Type - Toughened Glass
Freezer Style - Top Freezer
Freezer - Interior Lamp - Yes
Freezer Capacity - 235 litres
Power Details
Power Supply - AC 220-240 Volts
In The Box & Warranty
In The Box - Owner Manual, Warranty Card, Egg Tray
Warranty - 1 Year
Made in india
Mahajan Electronics
89-90 Raja Garden
New Delhi-110015
Free 24 Hours Delivery is applicable for NCR Region. Area includes Delhi, Gurugram, Faridabad, Ghaziabad, Noida.