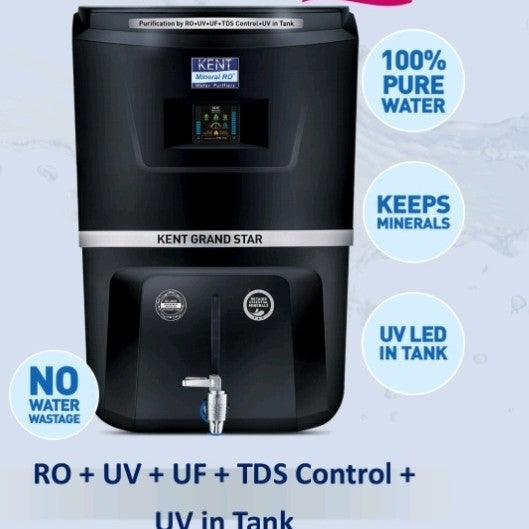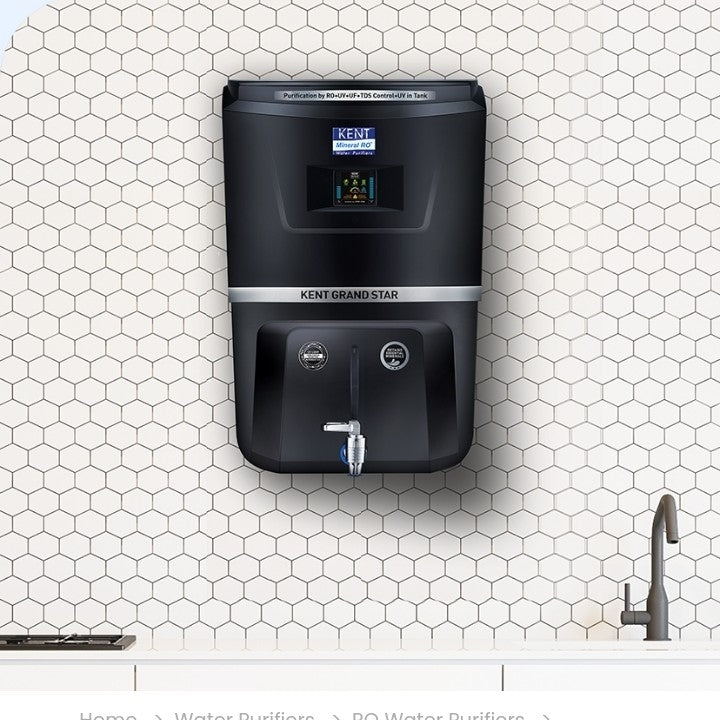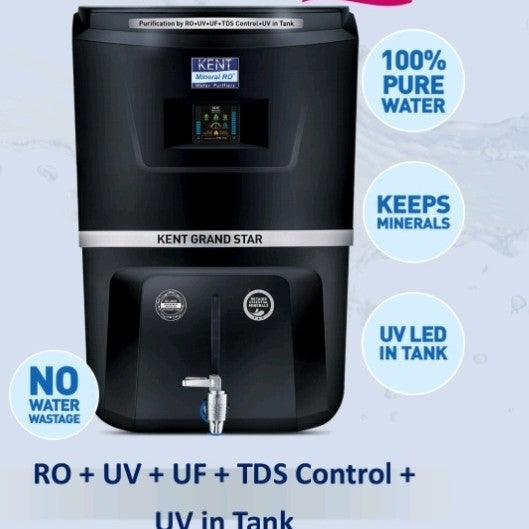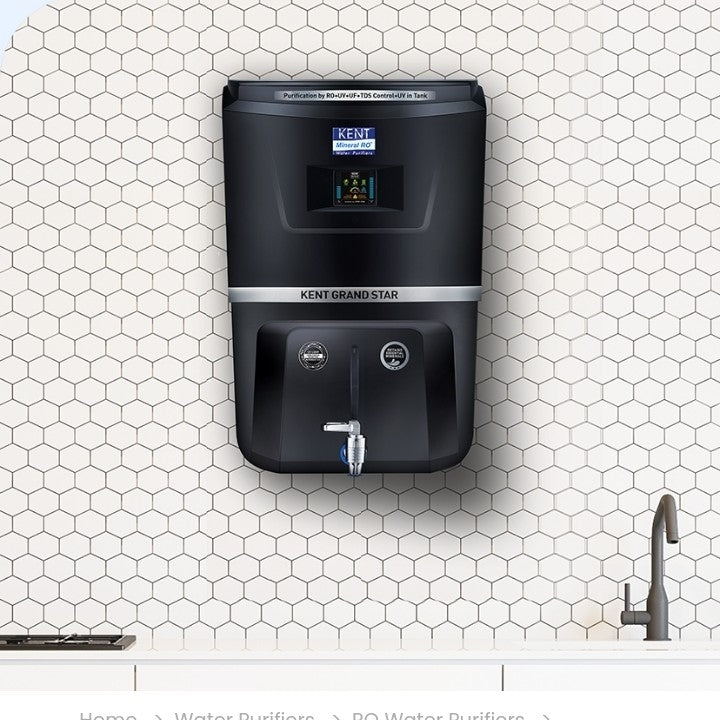 Kent Grand Star B ( Bold & Black) 9 Ltr Digital RO
22 people are viewing this right now
Regular price
Rs. 18,900.00
Sale price
Rs. 18,900.00
Regular price
Rs. 23,500.00
Tax included.
Free Shipping- 1 Day Delivery * Conditions Apply
Product description
Shipping & Return
All Deliveries made within 24 Hours (Business Hours) post receipt of order. Except Fridays (Weekly Off) (Coverage Area Delhi & NCR only)
Get GST invoice and save upto 18 % on business purchases. T&C Apply.
1 YEAR WARRANTY
The statements you provided describe various features and benefits of water purifiers, specifically focusing on the multistage purification process, digital display, in-tank UV disinfection, high storage capacity, and water wastage in conventional RO purifiers. Here's a breakdown of each statement:
The multistage purification process makes water 100 percent pure and safe for consumption: A multistage purification process typically involves multiple filtration steps, such as sediment filtration, activated carbon filtration, reverse osmosis (RO), and UV disinfection. This combination of purification techniques is designed to remove impurities, contaminants, and microorganisms from the water, making it safe to drink. While it significantly improves water quality, claiming water to be "100 percent pure" may not be entirely accurate, as there can still be trace amounts of certain substances or contaminants present.

The smart RO purifier has a digital display of purity for the convenience of the users: A smart RO purifier is equipped with a digital display that provides information to users regarding the filter life, RO flow rate, and the quality of the purified water. This display offers convenience and allows users to monitor the performance and status of the purifier.

Kent grand star is India's first RO water purifier with an in-tank UV disinfection feature, ensuring purified and safe water in the storage tank: The Kent Grand Star is a specific model of RO water purifier available in India. It is marketed as the first RO purifier in the country to feature an in-tank UV disinfection system. This additional UV disinfection stage inside the storage tank helps in eliminating any microorganisms that may have entered the purified water during storage, ensuring that the water remains safe and free from harmful bacteria or viruses.

The water purifier has a high storage capacity, ensuring a continuous supply of water even during power outages: A water purifier with high storage capacity refers to its ability to store a significant amount of purified water. This feature ensures that there is a continuous supply of water, even when there is no electricity available to operate the purifier. Users can access the stored water during power outages or when there is limited water supply.

Conventional RO purifiers reject almost 80 percent of the water and retain only 20 percent as purified: Conventional RO purifiers typically work by using a semipermeable membrane to remove impurities and contaminants from water. While they are effective in purifying water, they can also result in a significant amount of water wastage. It is true that conventional RO purifiers can reject around 80 percent of the input water, retaining only 20 percent as purified water. However, it's worth noting that newer models of RO purifiers may employ improved water-saving technologies to reduce wastage.
| | |
| --- | --- |
| Brand Name | KENT |
| Colour | Black |
| Ean | 8906019945191 |
| Included Components | KENT GRAND STAR-B MINERAL RO WATER PURIFIER, 3-WAY CONNECTOR, S.S. BALL VALVE, FOOD GRADE PIPE INCH (BLACK) |
| Item Weight | 15.0 kilograms |
| Material | Plastic |
| Part Number | 111101B |
| Purification Method | RO |
| Size | 400 (L) X 230 (W) X 540 (H) |
| Special Features | RO , UV, TDS, UF |
Product Description:-
The KENT Grand Star is an advanced water purifier that incorporates multiple purification processes to ensure clean and mineral-rich drinking water. Its purification technologies include RO (Reverse Osmosis), UV (Ultraviolet), UF (Ultrafiltration), TDS (Total Dissolved Solids) Control, and UV In-tank sterilization.
One notable feature of the KENT Grand Star is its Zero Water Wastage Technology, which means that it does not waste any water during the purification process. This is an environmentally friendly feature that helps conserve water.
The purifier also has a unique Digital Display of Purity feature, which allows you to track the quality of the purified water in real-time. It provides information about the filter's life, RO flow rate, and other relevant parameters, ensuring that you have access to up-to-date information about the purifier's performance.
The Mineral RO™ technology employed in the KENT Grand Star helps retain essential minerals in the purified water. While the purification process eliminates harmful substances, it ensures that important natural elements are retained, resulting in mineral-rich drinking water.
In terms of design, the KENT Grand Star features a bold black shade that adds a stylish touch to your kitchen decor. It is specifically designed for Indian residences and workplaces, and it is capable of purifying brackish water, tap water, and municipal corporation water sources commonly found in India.
Overall, the KENT Grand Star offers a comprehensive water purification solution with its advanced purification technologies, real-time monitoring features, and aesthetically pleasing design, making it a suitable choice for those looking for clean and mineral-rich drinking water.
From the manufacturer
KENT GRAND STAR
Presenting KENT Grand Star, a wall-mountable RO Water Purifier with Zero Water Wastage Technology. It re-circulates water to the overhead tank using its own pump and ensures that no drop of water is wasted during the purification process. It is a smart RO purifier which utilises multiple purification process of RO+UV+UF+TDS Control+in-tank UV disinfection to provide 100% pure and healthy purified water. Also, it comes with digital display of purity function which informs the users about the filter life, RO flow rate, and purified water quality. This purifier is ideal for purifying brackish, tap and municipal corporation water.
FEATURES
Makes Water 100% Pure by Multiple Purification Process

KENT Grand Star uses multiple purification process of RO+UV+UF+TDS Control, which removes dissolved impurities, salts and kills bacteria & viruses to provide 100% pure water for drinking.

Mineral RO Technology

KENT's mineral RO technology helps to retain essential natural minerals in the purified water using an inbuilt TDS Controller, thereby providing healthy and tasty drinking water.

Digital Display of Purity

KENT Grand Star has a digital display function that allows you to monitor the purified water status, filters life and performances.
Retains Essential Minerals

An inbuilt TDS Controller in the KENT Grand Star allows retaining desired essential natural minerals in the purified water.

In-tank UV Disinfection

KENT Grand Star RO water purifier has an extra UV LED Light protection in its storage tank that keeps purified water pure for longer durations.

Zero Water Wastage Technology

This purifier comes with KENT Zero Water Wastage Technology which re-circulates the rejected water to the overhead tank using its own pump, leading to no water wastage.

High Storage and Purification Capacity

KENT Grand Star has a 9 litre storage tank for storing purified water. Also, with a high purification capacity of 20 L/hr, this purifier provides purified water at a faster rate ensuring continuous supply even in the absence of electricity.
Made in india
Mahajan Electronics
89-90 Raja Garden
New Delhi-110015
Free 24 Hours Delivery is applicable for NCR Region. Area includes Delhi, Gurugram, Faridabad, Ghaziabad, Noida.
 Mahajanelectronics.com   makes every effort to service the orders placed with them, as per the specification and delivery timelines mentioned against each product. As a policy, we request you to kindly check the product and the accessories while accepting the delivery. In case of any discrepancies, kindly bring it to our notice before accepting delivery by calling us on +9710000251  or email us on  manas@mahajanelectronics.com  . After acceptance of delivery of the product, Mahajanelectronics.com    cancellation free of charge on Cash on Delivery orders. In case of prepaid order, a charge of 3% will be applied & refund shall be made within 24-48 hours.
Once delivery is made and product is kept packed unused & customer wants to return, we shall accept return within 24hrs of receipt of order in this case Cancellation charge of 3% will be applicable and we shall initiate refund post receipt of product within 24-48 hours.
Please Note In this case product should not have been unboxed. Moreover, it shall be at our discretion that we accept or not.
 After sales service is provided by the authorized service centers of the respective manufacturing companies. For product service requirement, kindly contact us on the above-mentioned details for the same.
For any product/service available on sale on Mahajanelectronics.com , the company does not assume any liability.