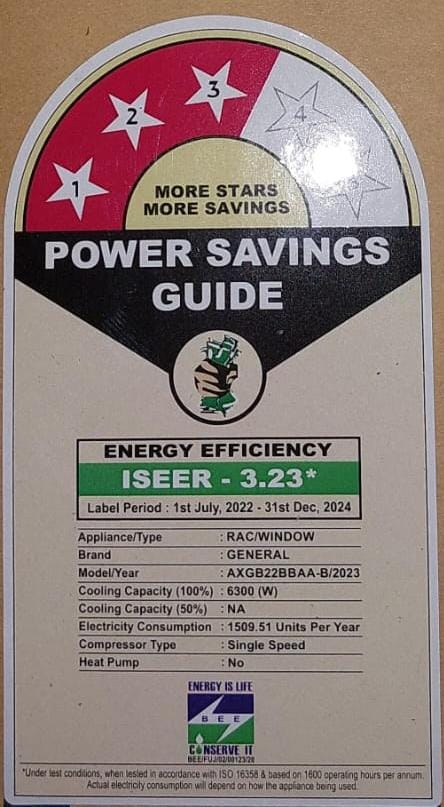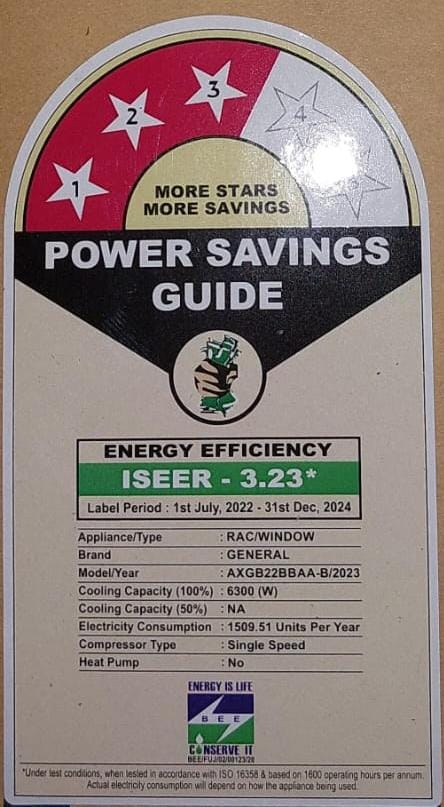 Ogeneral 1.8 Ton 3 Star Window Air Conditioner (AXGB22BBAA-B)
27 people are viewing this right now
Regular price
Rs. 44,999.00
Sale price
Rs. 44,999.00
Regular price
Rs. 50,990.00
Tax included.
Free Shipping- 1 Day Delivery * Conditions Apply
Product description
Shipping & Return
All Deliveries made within 24 Hours (Business Hours) post receipt of order. Except Fridays (Weekly Off)
Buy additional 4 years Comprehensive Warranty @ Rs-6990/-. for details please call us at 9710000251 /9310000492

Bring home a OGENERAL AC with a 4 year comprehensive product warranty, it covers all the functional parts of the product & 2 Service Per Year (Gas charging will extra).
About this item
Windows AC with inverter compressor: Economical & easy to install. It has variable speed compressor which adjusts power depending on heat load and is energy efficient

Capacity: 1.8 Ton. Suitable for medium sized rooms (140 to 190 sq ft) ; Air Flow Volume - Indoor [CMH]: 700; Noise Level - Indoor [dB(A)]: 56

Energy Rating: 3 Star. Best in class efficiency. Annual Energy Consumption: 1509.51 units. ISEER Value: 3.23 (Please refer energy label on product page or contact brand for more details)

Manufacturer Warranty : 1 year on product, 1 year on condenser, 5 years on compressor

Copper Condenser Coil: Better cooling and requires low maintenance

Special Features: Anti-bacterial Filter;Dust Filter;Dehumidifier

Refrigerant gas: R32. No ozone depletion potential
Included in the box: AC Unit, Remote Control, User manual, Warranty Card

Country of Origin: India
HIGHLIGHTS:-
It seems like you're describing the features of a window air conditioner with Super Wave Technology. Here's a breakdown of the features you've mentioned:
Window Air Conditioner: This is a type of air conditioning unit designed to be mounted in a window or a hole in a wall. It's a popular choice for cooling single rooms or small spaces.

Super Wave Technology: Super Wave Technology likely refers to an advanced cooling technology used in the air conditioner. It might involve specialized fan designs, compressor technology, or air circulation methods that enhance cooling efficiency and performance.

Silent Operation: Silent operation means that the air conditioner operates quietly, minimizing noise disturbances. This is particularly important for maintaining a peaceful indoor environment.

High Airflow: High airflow indicates that the air conditioner can deliver a significant volume of cool air into the room. This feature is important for efficient cooling and distributing conditioned air evenly.

12 Months Manufacturer Warranty: The manufacturer provides a one-year warranty for the product. This warranty typically covers defects in materials and workmanship during the first year of ownership.

5 Years Compressor Warranty: The compressor is a critical component of an air conditioner, and a five-year warranty for the compressor suggests that the manufacturer is confident in its durability and performance. This warranty typically covers compressor-related issues for five years.
 High Performance ・Wide Operation Range The operation is secured under the high ambient temperature. Blue Fin Condenser Improved corrosion resistance and longer life of heat exchanger by blue fin treatment of the heat exchanger. The blue coating on the aluminum fins provide improved anti-rust performance. Customer Comfort Wide Airflow • The louver automatically swings to left and right. • The 100°~140 ° wide airflow gives you a comfortable and satisfactory environment. Catechin Filter The catechin filter filtrates pollen and dust particles to keep the fresh air.
Key Features
High Ambient Cooling

Keeps you comfortable even at 52⁰ C.

Wide Voltage Range Operation

Works under a wide operating range of 100-290 V protecting the AC if there are voltage fluctuations.

Active Dehumidifier

Senses the indoor humidity and controls it in monsoon.


Eco Mode

Optimizes the power consumption and saves on your electricity bills.

Glow Light Buttons

Glow in the dark remote buttons to guide you when it's dark.

Sleep Mode

Maintains a comfortable temperature by cutting excessive cooling and power consumption, so you sleep comfortably all night.
Specification
BEE Star 
Rating
3
Power Supply  
Ph-Hz-V
1φ-50-230
Tonnage
TR
1.8
Running Current
A
8
Standard Cooling at 100% Capacity
W
6300

BTU/h
20000
Power Consumption at 100% Capacity
W
1600
Rated ISEER
kWh/kWh
3.23
Electricity Consumption per Annum
kWh
1509.51

Moisture Removal
l/h
2.2
Indoor Fan Speed Control levels
2
Indoor Airflow Volume-High
 m 3 /h
790
Unit Dimensions
HxWxD mm
428x660x770
Unit Net Weight
kg
60
Indoor Noise Level-Quiet
dB(A)
53
Condenser Type
Copper
 No. of Condenser Coil Rows
3
Fan Diameter
mm
396
Rear Cabinet Protection
Yes/No
Yes
Anti-corrosion treatment for Outer body and Heat Exchanger fins
Yes/No
Yes
Outdoor Air Circulation
m 3 /h
2000
Outdoor Noise Level
dB(A)
58
Ambient Operating Temperature Range
°C
18°C ~ 50°C
Operating Voltage Range
V
193V ~ 253V
Precharged Refrigerant
g
700
Blue Fin Condenser
Yes/No
Yes
Refrigerant Type
Non-CFC
R32
Compressor Type
 -
Rotary
Conditions Apply (UEP)
Mahajan Electronics
89-90 Raja Garden
New Delhi-110015
Free 24 Hours Delivery is applicable for NCR Region. Area includes Delhi, Gurugram, Faridabad, Ghaziabad, Noida.
 Mahajanelectronics.com   makes every effort to service the orders placed with them, as per the specification and delivery timelines mentioned against each product. As a policy, we request you to kindly check the product and the accessories while accepting the delivery. In case of any discrepancies, kindly bring it to our notice before accepting delivery by calling us on +9710000251  or email us on  manas@mahajanelectronics.com  . After acceptance of delivery of the product, Mahajanelectronics.com    cancellation free of charge on Cash on Delivery orders. In case of prepaid order, a charge of 3% will be applied & refund shall be made within 24-48 hours.
Once delivery is made and product is kept packed unused & customer wants to return, we shall accept return within 24hrs of receipt of order in this case Cancellation charge of 3% will be applicable and we shall initiate refund post receipt of product within 24-48 hours.
Please Note In this case product should not have been unboxed. Moreover, it shall be at our discretion that we accept or not.
 After sales service is provided by the authorized service centers of the respective manufacturing companies. For product service requirement, kindly contact us on the above-mentioned details for the same.
For any product/service available on sale on Mahajanelectronics.com , the company does not assume any liability.