Product description
Shipping & Return
All Deliveries made within 24 Hours (Business Hours) post receipt of order. Except Fridays (Weekly Off) (Coverage Area Delhi & NCR only)
Get GST invoice and save upto 18 % on business purchases. T&C Apply.
2 YEAR ON PRODUCT AND 20 YEAR ONLY MOTOR WARRANTY
Specifications
Washing Capacity 10.0 kg
Energy Efficiency Class 5 star
Drum type 2nd Diamond
Pulsator PP Dual Wing Pulsator
Physical specification 540 x 1008 x 568 mm
Net Weight 29.5 kg
Smart laundry care
Smart Control with Wi-Fi
SuperSpeed™
Cut your normal laundry time by up to 40%* and get clothes thoroughly clean. Super Speed ensures powerful cleaning and reduces water usage by 22%**. Using SuperSpeed™ the rinsing time is shortened and it also accelerates the spin speed.
* A Normal wash can be completed in as little as 29 minutes using Super Speed at the default settings with a 2kg load, compared to 49 minute in a Samsung washing machine without Super Speed.** Water consumption is reduced from 79 liters to 62 liters.
Same Outside, Bigger Inside
SpaceMax™ Technology*
Digital Inverter™ Technology
Enjoy long-lasting, powerful performance with less noise* and greater energy efficiency - 5 star energy rating. The Digital Inverter Motor uses strong magnets to provide outstanding durability and power. This is backed-up by a 12 year warranty**.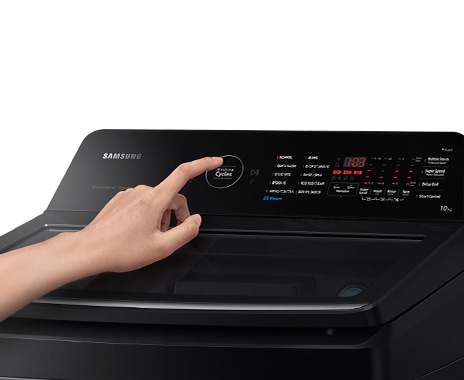 Ergonomic Design
Rear Control Control
Use your washer easily and intuitively without worrying about splashing water on the digital panel. The slanted Rear Control is located at the back of the machine. It means the controls are really easy to see, even from a distance, and are protected from water splashes when getting clothes out.
Shuts Safely and Silently
Soft Closing Door
Avoid being frightened by unexpected bangs! The Soft Closing Door shuts gently, as a damper automatically slows its movement - keeping your hands safe at all times. Also, the tempered glass window lets you view your washing without lifting the lid. And it is durable and strong, so it won't get scratched or damaged.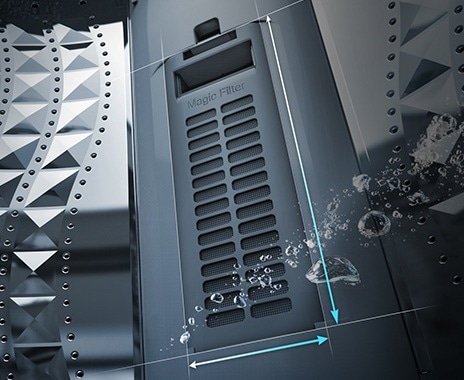 Powerful Filtration
Magic Filter
Removes lint even at low water levels and protects the drainage from getting clogged up. The Magic Filter with a dual mesh - at the front and back - effectively gathers the lint, fluff and particles that come out of your laundry. And it is easy to clean the filter as it opens 180°.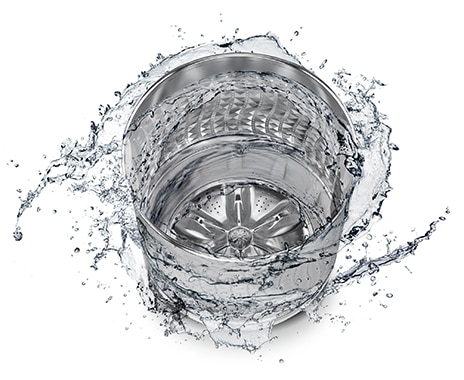 Keeps the Tub Clean
Eco Tub Clean
Keeps your machine fresh and hygienically clean, while being eco-friendly and saving money. The Eco Tub Clean course removes dirt that can build-up in the drum, without using harsh or costly detergent. And it notifies you automatically when it needs cleaning*.
* Recommended for use every one or two months, when an alert icon turns on.
Intensive Cleaning
Intensive Wash
Get your clothes spotlessly clean, even if they're really dirty. The Intensive Wash can be used in any course* to remove stubborn stains. It quickly pre-mixes detergent and helps water to penetrate deep into the fabric. So dirt is removed more effectively.
* Available in all courses, except for the Quick Cycle and Delicate Cycle.** Compared to a conventional Samsung washing machine without Bubble.
Easy Troubleshooting
Smart Check
Avoid the cost and inconvenience of a broken machine. Smart Check is an automatic error-monitoring system. You can use it anytime, anywhere with a smartphone App*. It detects and diagnoses problems and provides quick and easy troubleshooting solutions. So it saves you time and money**
Energy Efficiency Class

5 star

Pulsator

PP Dual Wing Pulsator

Physical specification

540 x 1008 x 568 mm
Specifications Detail
Washing Capacity
Washing Capacity (kg)

10.0 kg
Design
Body Colour

Dark Gray

Door

Black Caviar

Panel Display

Red LED
Performance
Energy Efficiency Class

5 star
Feature
Eco Bubble

Yes

BubbleStorm™

Yes

SpeedSpray™

Yes

Dual Storm™

Yes

Hygiene Steam

No

Auto Restart

Yes

Child Lock

Yes

Delay End

Yes

Door Lock

No

Drum type

2nd Diamond

Intensive Wash

Yes

Magic Filter

Yes

Monsoon

Yes

Motor

DIT

Pulsator

PP Dual Wing Pulsator

Super Speed

Yes

Spin Speed

700 rpm

Smart Control

Yes

Smart Check

Yes

Soft Close Lid

Yes

Tempered Glass Window

Yes

Water Level

10 Levels
Physical specification
Net Dimension (WxHxD)

540 x 1008 x 568 mm

Net Weight

29.5 kg

Voltage/Frequency

230V/50Hz
Made in india

Mahajan Electronics
89-90 Raja Garden
New Delhi-110015
Free 24 Hours Delivery is applicable for NCR Region. Area includes Delhi, Gurugram, Faridabad, Ghaziabad, Noida.